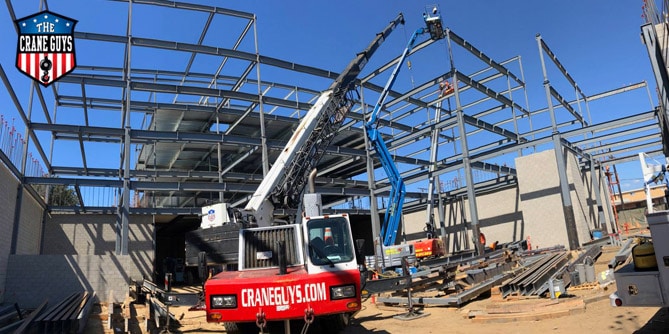 Crane Installation Company
Because The Crane Guys offers such a wide range of services and solutions, we definitely can be viewed as many different companies under one roof. All, of course, working in perfect sync. Many clients, for instance, look at us as a first-rate crane installation company. This is easy to understand. A number of projects require us to provide crane installation at a variety of sites, such as a building currently under construction. As with all our other services, tackling this type of project demands ultimate skill and a commitment to excellence. We're pleased to say that both of these assets are generously supplied by our crane company.
Call Now: (855) 482-7263
Being a crane installation company, however, means we also install different types of hardware, structures, and equipment needed to complete various projects. Clients, for example, sometimes need a crane rental company for installing structural steel. We typically take on this type of project when dealing with a structure built from the strongest, highest grade steel. A high-rise building definitely falls into this category. To meet the high-rise challenge, The Crane Guys is ready to go with a fleet of high-performance hydraulic cranes capable of hoisting massive loads to their intended destinations.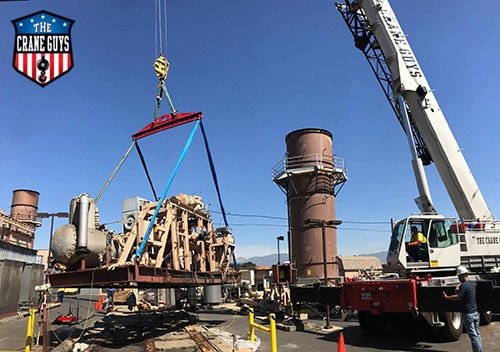 Cranes for installing mechanical equipment also are in high demand. Cell site installation is a good example of project requiring cranes for this purpose. With years of experience to back us, The Crane Guys consistently is prepared for this type of demanding assignment. And it's lucky we are. Just around the corner is the widespread implementation of the 5G network. To accommodate this transformation, a proliferation of new cell towers will be installed throughout communities. Experienced with type of service, The Crane Guys will be ready, willing, and able to do our part.
HVAC Crane Rental Company
This is only the beginning of what our crane rental company can do when equipment installations are needed. We're also highly regarded as a HVAC crane rental company for clients adding a new system to a building.
Crane at work in California
And let's not forget all the other types of installation duties we routinely perform. When the need arises, The Crane Guys can provide cranes for setting silos, a glass-lifting crane particularly useful for dealing with extremely large windows, and a crane for modular buildings, the latter requiring the most meticulous planning imaginable. That's because every crane used for such an installation must be positioned in the perfect location and precision coordinated to lift multiple components – which, by the way, typically are extremely large.
Sometimes we even include installations as part of package deal. Such an offering is perfect for clients who need oversize hauling, lifting, and installations. A challenging combination. But one we're always ready for.
The choice is obvious. If you need a crane for installation, call The Crane Guys. We offer incomparable service backed by a knowledgeable, experienced team. You can count on this team to get the job done right – and get it done in record time. One of the many excellent reasons to select us as your crane installation company. You'll be glad you did.
---
Contact form
---