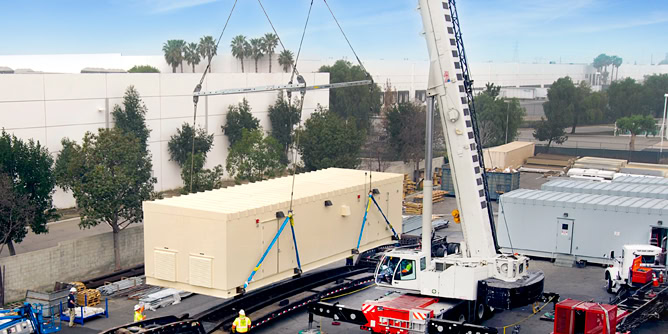 Crane and Rigging in Perfect Sync
Crane and rigging. Some crane rental services see them as separate entities. But for The Crane Guys, crane and rigging must be in perfect sync at all times. Whatever it takes, we create the perfect matchup. Quite a balancing act.
Just as lift projects vary in size and scope, crane and rigging options abound. Creating the right configuration requires supreme expertise, a quality definitely possessed by The Crane Guys' rigging team. Credit their extraordinary training, knowledge, and dedication.
Our qualified riggers perform a variety of duties throughout the duration of a project. Among the primary tasks resting on their shoulders is the selection of equipment and hardware. Riggers must know the capabilities of slings, spreader bars, pulleys, and other gear, and how each piece of gear meshes with specific cranes. As part of the process, riggers factor in the size and weight of the prospective lift load.
Once selected and matched, rigging still isn't ready for action. Not a single ounce leaves the ground until The Crane Guys' team thoroughly inspects and tests all rigging hardware. This critical step is necessary to maximize both the safety and efficiency of rigging configurations.
The Right Crane for the Right Rigging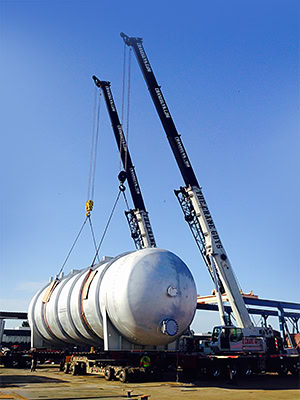 Of course, the other side of the crane and rigging equation is the crane itself. Selecting the right crane is challenging enough when your fleet is limited. But when you're dealing with the extensive fleet operated by The Crane Guys, the job is monumental. Presently, this diverse fleet consists of crane rental covering everything from a 3-ton to a 265-ton capacity. But we're always A number of variables enter into the crane selection process. And all of them must be analyzed seemingly at once. Crane type is the first factor to be considered. Will the project require a crawler, tower, ringer, derrick? Naturally, the size and weight of the lift-load must be taken into account. This includes the weight of the rigging, crane block, line, and other components below the boom point. The crane's performance capabilities and costs also must be considered.
But that's not all. The site itself will impact crane selection. Does the locale present any limitations or special conditions? What about the ground-bearing pressure resulting from the weight of the crane? Questions like these are fielded by The Crane Guys' team every day. It's all part of that delicate balance known as crane and rigging.
If you'd like to learn more about crane and rigging configurations for your project, call The Crane Guys at (855) 482-7263 for additional information and answers to all your questions. You'll discover why we're among the premier providers of crane rental services in Orange County, Los Angeles, Riverside, and all of Southern California.