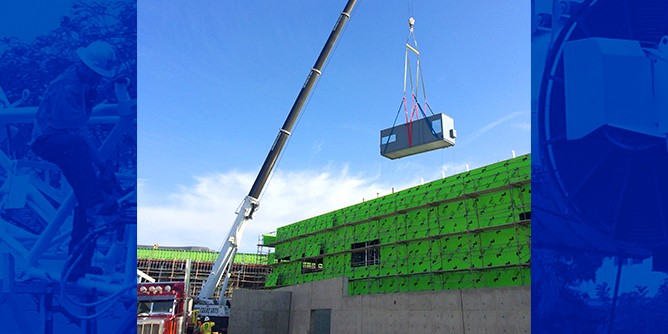 Installing a new HVAC system atop your towering office building? No problem. The Crane Guys HVAC crane rental services provide the equipment, crew, and knowledge required for hands-down success.
As with all of our other crane rental services, crane rental for HVAC replacement depends on the expertise of a highly-skilled team. One of the most important on the HVAC team is the crane operator – the heroic individual inside the cab working the mighty crane. Fortunately, the operator has substantial help from the other half of the HVAC lift team – the signal person. This highly-trained individual is responsible for guiding those monster air conditioning units onto the rooftops of structures that generally reach the clouds.
Toll Free: (855) 482-7263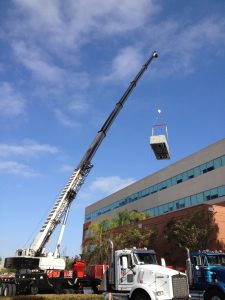 This is not as hard as it looks … it's harder. To pull it off, a signal person must deliver precise directions to the crane operator — up, stop, glide to the right, inch to the left, etc. No time to mull it over. The directions are crisp and to the point. Wasted seconds are not an option.
Not many cranes are known for their silence. And few signal persons are known for their booming operatic voices able to carry above the roar of heavy machinery. Thus, hand signals are the communication method of choice for signal persons. A crane operator absolutely needs these specialized gestures in order to do the job.
So why can't an able-bodied crane operator decide where and when the crane moves? Because in all likelihood, the lifted load will be invisible – even when it's hovering in front of the operator's eyes. Once lifted, an otherwise very-noticeable HVAC unit frequently vanishes behind walls or atop roofs. Thus, it takes a sharp-eyed signal person to track the vanishing HVAC units, guiding the operator through every intricate movement. And all of it orchestrated by hand signal.
Both crane operators and signal persons meet the highest safety standards, having earned the industry's foremost credentials. These include NCCCO Certification for crane operators; API Certification; OSHA 10 Certification; and Rigger and Signal Person Certification. But it doesn't end there – all of these experts must stay current by passing the latest certification courses.
Thanks to the expertise of crane operators, signal persons, and all other members of our team, The Crane Guys consistently meets the grueling challenges of HVAC replacement projects.
Replacement, however, is only part of the story. There's still a heavy load of discarded HVAC equipment to deal with once the job is through. Never fear. The Crane Guys promptly hauls away and disposes of all extracted HVAC equipment. Cost to you – 0. That's right — you pay absolutely nothing for disposal. This service is a bonus offered with all of our HVAC crane rental services.
If you'd like to learn more about our acclaimed HVAC crane rental services, please contact The Crane Guys for additional information and answers to all your questions. You'll discover why we set the standard for a full range of crane rental services in Los Angeles County, Orange County, Riverside County, San Bernardino County, San Diego County, Ventura County and all of Southern California.
---
VIDEO: The Crane Guys 90 Ton Crane
Rooftop AC Unit Removal & Installation