Scrap Removal Service
We Give a Scrap About What Happens to Your Old Stuff!
Recently, The Crane Guys assisted in the installation of eighty new rooftop air conditioning units. Our scrap removal services took the old units off their hands, headache-free.
The Crane Guys are EPA Certified. We dispose of your scrap metal properly to meet all California standards. The Crane Guys can also provide Origin of Recovery documentation upon request. We also specialize in air-conditioning unit recovery.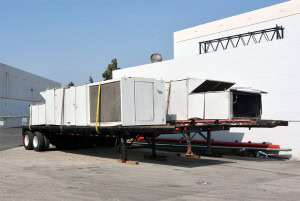 We provide Scrap Removal Service with our crane services. The Crane Guys are experts at scrap removal. We handle all typical scrap metal found in most scrap-producing businesses. If your scrap metal is not typical, call us anyway; at The Crane Guys, we are committed to the best possible customer service. If it's a material with which we are not familiar, we'll do the research and find a safe, environmentally friendly way of disposing of it.
When you call The Crane Guys, LLC to handle a scrap removal job for you, we provide all of the necessary equipment and personnel to get the job done quickly and safely. We handle all sizes of scrap metal removal projects, including large-scale air-conditioning unit recovery projects. We handle all of the necessary paperwork so you don't have to.
Appliances are valuable sources of scrap metal when they become obsolete or are no longer needed. However, some of the components in appliances contain materials that can cause health or environmental problems if they are not removed and properly managed prior to recycling. California law requires that appliances, and certain materials within appliances, be properly handled. The details of the Certified Appliance Recycler laws can be found in Health and Safety Code Section 25211, et seq. A helpful factsheet has also been prepared.
The Crane Guys, LLC is a fully licensed, insured and certified company. Feel free at any time to request any of our insurance information; or, you can also request to be additionally insured. For your convenience, insurance request forms are available here on our site.
We are available to assist you 24 hours a day, seven days a week, and 365 days a year. You can always reach us at:
Telephone: 855-482-7263
E-mail: office@Craneguys.com
We are committed to providing you the best in customer service and satisfaction, as well as safety, on every job.
"Nobody provides better customer service. Nobody."
~ Wes Staley, Owner
Call Us Today!
Call: (855) 482-7263
Mobile: 626.523.7983
Call Wes anytime 24/7 to discuss your lifting needs.
Services Offered:
City Permit Processing
FAA Permit Processing
Integrated Traffic Control Solutions
Spreader Bars Available For Your Lifting Requirements and Needs