24/7/365 Availability
Get support 24 hours a day, 7 days a week, 365 days per year. We never sleep!

Availability –  The Crane Guys is available 24/7 – 365 days a year! Our large fleet of versatile cranes, trucking service and rigging personnel are on call and ready to respond quickly and efficiently to meet your needs. Our Sales team can assist you with quotes and 3-D Lift Plans with a very quick turn-around time. Call us Toll Free at (855) 482-7263 if you need a quote.
There's nothing more frustrating than needing a service right away and getting instead a recorded message. This is particularly frustrating when you require something very important, like a crane rental service. Very few people have the time or the patience to wait for a call back when there's a pressing project to deal with. Every minute you wait drains your energy and some of your budget. Luckily, you'll never have this problem when you select The Crane Guys to supply crane rental solutions. We offer 24-7-365 availability on all our services. No exceptions. Whether you need equipment or personnel, we'll supply it for you on the spot. That's a promise. And to make sure we fulfill this promise, we staff our headquarters with helpful representatives on board and ready to take your call. No recorded messages. No waiting. No frustration. Best of all, no mounting expenses as you wait it out for a call back or search the world for another provider.
Call Now: (855) 482-7263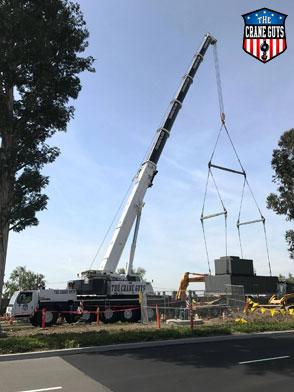 When The Crane Guys claims 24-7-365 availability, the claim covers every item in our lineup. Let's start with the center attraction – the cranes themselves. You may be thinking our availability is limited to a narrow range of muscle machines. But nothing could be more off base. We're packed to the brim with cranes. Our extensive fleet consists of 3 to 265 ton cranes ready for active duty. This means well-serviced and in mint condition. After all, it does clients very little good if we have what they need – but it fails to perform as expected. When we say available, we mean available in perfect working order.
Naturally, selection plays a big part in the availability factor. We have a crane for every need. Our fleet includes 40-ton to 265-ton hydraulic cranes, as well as 3-ton to 40-ton boom truck cranes. This selection is backed by a full range of rigging equipment and certified support personnel.
Some people might downplay our commitment to availability. So long as we have enough advance notice, it should be no problem supplying a needed crane, right? Well, you might be surprised to learn that we don't need advance notice to supply effective solutions. Should an emergency arise, rest assured The Crane Guys can deal with spur-of-the-moment requests for cranes, rigging, and personnel. You see, along with a large fleet of cranes, we have extraordinary reflexes.
How fast can you find The Crane Guys? You'll be setting records. We're conveniently located, neighboring all counties in Southern California. And the best part is, we'll be ready to go when you are.
If you'd like to learn more about benefiting from our 24-7-365-availability, please contact us for additional information and answers to all your questions. You'll discover that when it comes to crane rental in Southern California, nothing beats The Crane Guys.
About The Crane Guys
Our experience and expertise make The Crane Guys a vital resource for your company. Our commitment to SERVICE and SAFETY make us a crucial part of your team.
The Crane Guys LLC's mission is to set and exceed the standards for safety, customer service and employee development in the crane rental industry. This mission will be achieved by rigorous training and retraining of all employees to constantly improve job safety, job performance and customer satisfaction.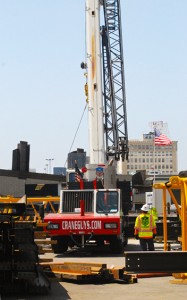 Service – The Crane Guys is committed to Customer Service, we go above and beyond to ensure each and every customer is getting efficient, reliable and expert service on every job. Our cranes, equipment and qualified personnel are available 24/7 to achieve success on every job. Versatile capabilities and experience allow us to become a true extension of your team by doing everything it takes to get the job done efficiently. Our solid team of operators and rigging personnel are all NCCCO certified and maintain the latest certification courses to operate our equipment safely and efficiently to maintain accident free job sites.
Safety – We understand that safety is awareness. Through education and constant training, our personnel are highly trained and perform thorough safety procedures on every job. This includes safety meetings and a Job Safety Analysis (JSA) on every job. We our committed to Safety in all aspects of our business and continuously train our operators and rigging personnel and maintain certifications from Cal/OSHA (10 & 30) and MSHA (Part 46 & Part 48).
5% Guarantee – The Crane Guys strives to have to most competitive pricing and most reliable crane service in southern California. We will beat any written offer from a competitor by 5%
Call Us Today!
Call: (855) 482-7263
Call us anytime 24/7 to discuss your lifting needs.
Services Offered:
City Permit Processing
FAA Permit Processing
Integrated Traffic Control Solutions
Spreader Bars Available For Your Lifting Requirements and Needs