3D Lift Plan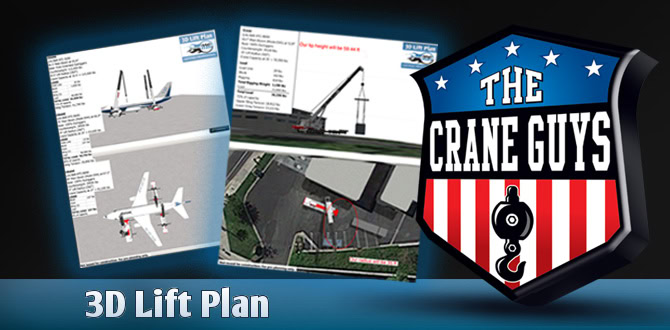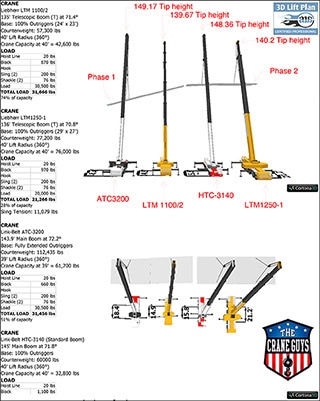 Planning a successful lift can sometimes be a challenge. The safety of employees and the public, in addition to protection of the load, is paramount. That's where trained and qualified professionals are needed and these are the kind of professionals The Crane Guys have on their staff.
You also need the right tools to do the job right. One such tool The Crane Guys utilize is a web based lift planning and crane selection application named 3D Lift Plan.
The first step in developing a lift plan involves having one of our dedicated sales team members either walk the jobsite or contact the customer to obtain necessary lift information. Then, one of The Crane Guys 3D Lift Plan Level 2 – Certified Professionals takes the information gathered and inputs the weight and dimensions of the object to be lifted, including any obstructions, as well as job location, into the application.
The result is a detailed plan of the jobsite, depicting buildings, landscape, roads and any other objects critical to the lift. 3D Lift Plan then searches for the appropriate and economical crane in The Crane Guys inventory. When the correct crane is chosen, it is correctly placed on the plan sketch.
The next step is developing a rigging plan, listing all rigging components and placing them on the sketch.
Lastly, lift plan narratives are then written to provide additional context and details, such as wind restrictions or required load chart deductions, and clarity to the lift. We also include ground bearing pressures and any special support requirements such as large wooden mats or steel plates in order to reduce those pressures.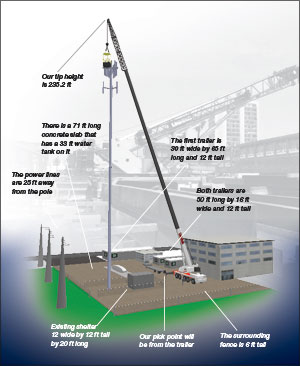 While several steps are involved, The Crane Guys know that is important to provide the customer with a plan that will achieve the desired result:  a safe and successful lift!
Related Article: We are 3D Lift Plan Specialists!
About 3D Lift Plan
3D Lift plan is a lift planning and crane selection application. You provide the weight and dimensions of the object you are lifting and the location and size of any obstructions on the jobsite. 3D Lift Plan will search the load charts for all your cranes to find the most economical crane configurations for the lift. You can also simulate the entire lift in 3D Lift Plan to save time and increase efficiency on the jobsite. Our database of over 900 cranes contains accurate crane dimensions and load charts. We also provide hundreds of custom 3D objects, enabling you to deliver a realistic rendering of your lift plan to the customer 3D Lift Plan is a standalone application. No additional CAD program is required.
---
Call Us Today!
Call: (855) 482-7263
Call us anytime 24/7 to discuss your lifting needs.
Services Offered:
City Permit Processing
FAA Permit Processing
Integrated Traffic Control Solutions
Spreader Bars Available For Your Lifting Requirements and Needs
Crane Rental News
Look anywhere in Southern California, and you'll probably see one of the most common sites in the vicinity – a major construction project in full swing. Often, you'll also see rugged mobile construction cranes lifting the various structural components and setting them...

Read more

Increasingly, bucket trucks are giving work crews access to 'unreachable' areas. If you need such a far-reaching solution, there isn't a better resource than The Crane Guys bucket truck rental service. As with all our other services, our bucket truck rental program...

Read more

When you think of a crane rental company, the first thought that probably pops into your head is big lifting machines moving monster-size cargo. But here at The Crane Guys, we offer more than lift muscle. We offer a wide range of...

Read more
See All Crane Guys News