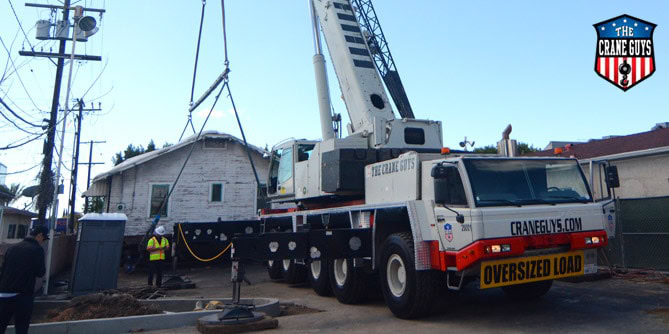 Oversize Hauling, lifting and installations
As a prominent crane rental company, the Crane Guys often is seen as having one major objective – lifting. While hoisting and carrying ordinary loads occupies much of our time, we also offer services in several other categories. One of these categories can best be described as oversize hauling, lifting, and installations. This designation encompasses a broad spectrum of services, with the common denominator being impossibly large loads. Here, we deal with extraordinary cargo, which vastly exceeds normal dimensions and tonnage. We're talking the really, really big stuff.
Call Now: (855) 482-7263
Interestingly, not all this extraordinary cargo is a candidate for lifting. Some of it must be moved by a suitable vehicle. When this type of load is involved, The Crane Guys provides premier oversize hauling services. No matter what the load size, we'll transport it to wherever it needs to be. Assisting us in this endeavor is a fleet of rugged oversized flatbed trucks. Don't worry about distance. Whether you need the cargo hauled a few blocks down the road or miles and miles away, consider it done to your complete satisfaction with our team on the job.
Oversize Hauling on Flatbed Trucks
Naturally, it helps to have reliable vehicles at your disposal. And we can say with full authority that our vehicles are unfailingly reliable on every job. We have two main headliners in our fleet. One is a 12-foot flatbed, which generally is assigned the 'modestly-sized' cargo. For monster loads, we have impressive 26-foot flatbed trucks ready for action. But that's not all. When a record-breaking load must be transported, you can count on our 65-ton lowboy trailer to ensure safe, speedy deliveries. Basically, there's nothing The Crane Guys can't handle.
Oversize Crane Lifting
By the way, we also provide a creditable amount of oversize crane lifting. Here, as with our other services, we are well-supported by a solid selection of muscular machinery. How much can this powerhouse lineup lift? In our distinguished fleet are cranes with lift capacities ranging from a 3-ton rating to a 265-ton rating. And while these heavy-lifters are a big part of our success story, they would be just a bunch of machinery without the people running the show – our crane crews. We're pleased to say that this group is as good as it gets, all of the personnel meticulously trained for every situation.
The Crane Guys complements the above duties by providing exceptional oversize installations. Don't worry – we cover the gamut. Rebar installation is a good example. We boast years and years of experience setting rebar cages, which means we know the territory inside and out. The same holds true for our experience with other types of oversize installations, including structural steel, heavy machinery, silos, and HVAC systems.
All of this adds up to one inescapable conclusion – you can count on The Crane Guys when a project requires reliable oversize hauling, lifting, and installations. And remember, this goes for wherever you are in big, beautiful Southern California, including Los Angeles, Orange County, and Riverside County. Just give us a call, and we'll be there ready to serve.

---
Contact form
---