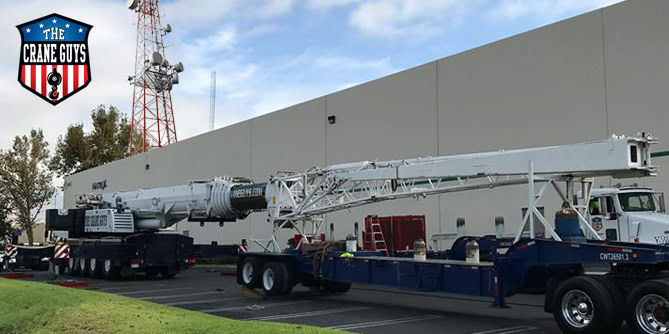 Cranes for 5g Antenna Installation in California
Even though 5g networks are still on the horizon, preparations for the upcoming change are underway. Already, new antenna fixtures are being installed throughout the golden state. The Crane Guys will have a big role to play in the transformation. With our experience servicing cell towers, we're well-positioned to provide cranes for 5g installation in California as well as old cell site removal.
Call: (855) 482-7263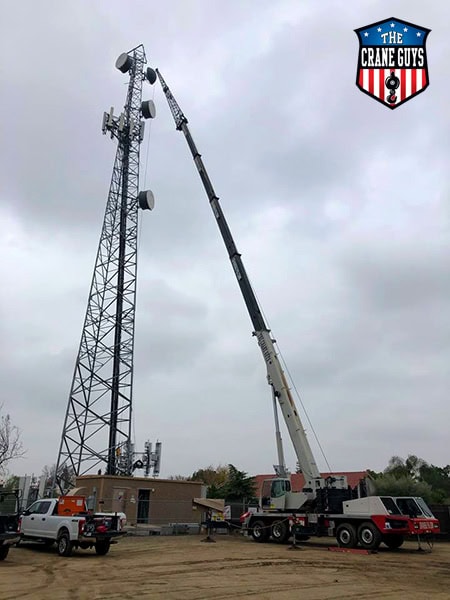 We'll have a big head start thanks to our background and experience with crane rental for the telecom industry. Our excellence in this field is acclaimed throughout California. Consider, for instance, our range of offerings. No matter what the extent or duration of a cell-tower project, we're prepared to tackle it. The Crane Guys stocks an impressive selection of fixed personnel platforms. Depending on need, we offer platforms that can support 2, 4, or 6-man crews.
Equally striking is the versatility of our crane lifted personnel platforms. Are you facing a project that requires only limited extension? We can handle it. The Crane Guys has a full supply of platforms with tip-heights of 30 feet. From there, our platform range soars to a tip-height of 327 feet. Rest assured, if you require extraordinary reach, we're more than capable of extending ourselves.
Maneuverability is essential for personnel platforms, as they often must reach into tight or otherwise hard-to-access areas. For this, The Crane Guys has an unbeatable fleet of high-performance boom trucks. Nimble and swift, they can move personnel platforms (or man baskets) wherever they need to go. Another example of our acclaimed versatility.
The versatility of our telecom-related services is well-matched by the safety we ensure. In this field, our record is impeccable. Much of the credit must go to our crews. All service personnel, whether they be riggers, signal persons, or operators, are thoroughly trained through our rigorous educational program.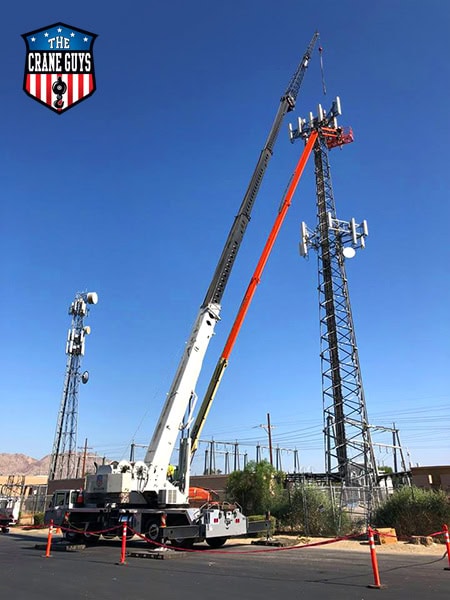 When these diligent trainees 'graduate', they are fully qualified by an array of industry-recognized certifications. These certifications include Black & Veatch approval, Bechtel safety training, and RF Awareness. Thanks to this thorough education, our personnel are qualified to provide the best and safest service to the telecom industry. Basically, they're ready for anything.
Being ready for anything is essential for 5g installation in California. That's because servicing the network's cell sites will differ enormously from servicing conventional ones. Rather than relying on sky-high towers, 5g often will use compact poles. These typically stand at about 30 feet. The reason for this 'miniaturization' is simple: 5g antennas will be much smaller than their predecessors.
While the 5g antenna setups won't reach the clouds, they will be more plentiful. The telecom industry will need many more antennas to boost signal strength to required levels over short distances. Their numbers could be in the hundreds — or more. Which means there'll be abundant work for a crane rental company proven in the telecom industry.
That company is The Crane Guys. We offer the adaptability, trained personnel, cell site experience, and safety performance necessary to provide cranes for 5g installation in California. Depending on location of 5g antennas, we'll be ready with an array of solutions, including large hydraulic cranes and boom trucks with man baskets/suspended personnel platforms.
---
Contact form
---