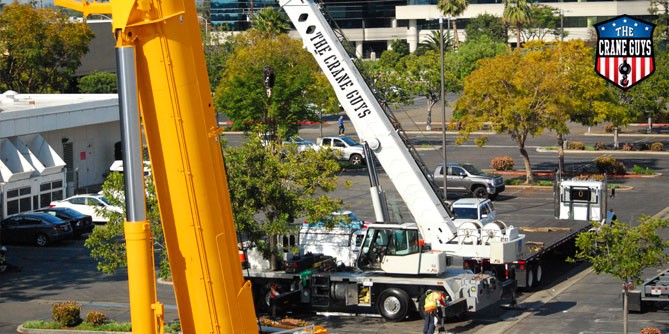 If you're facing the challenge of a major lift, you want a crane service company proven beyond a doubt for its dependability. This trait describes The Crane Guys to a tee. For us, dependability starts with having what a client needs, when they need it. This is no problem for us. In fact, you might say we excel in this area. When we offer crane service to the world at large, we mean full service. Let's start with the types of jobs we handle. The most common ones coming our way are the conventional crane lifts. Well, maybe conventional doesn't quite capture it. Because for us, nothing is ever conventional. Every crane rental job is uniquely challenging, each with its own set of circumstances.
Call (855) 482-7263
Fortunately, as a one-stop crane service company, we have the cranes and the crews to handle it all. Need proof? Just take a glance at our lineup of cranes. We supply everything from 3-ton rated machines to 265-ton machines, each well maintained and serviced to perform at peak levels every time.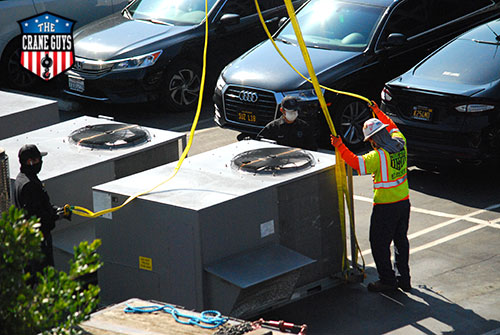 Helping them perform at these high levels is our team of crane personnel, every one of whom has been trained to perfection. Along with our rugged cranes, these exceptional personnel are responsible for our continued excellence as a distinguished crane company.
Providing outstanding crane rental often presents us with challenges that go beyond those faced by 'conventional' crane lifts. These are the challenges that arise from projects requiring multi-crane lifts. As with everything else we tackle, deploying the machines for these lifts is something we do with customary attention to detail and safety.
Boom Truck Rental for HVAC Installations
But maybe a job doesn't call for maximum muscle. Instead, a lighter touch and nimble reflexes are required. For this need, The Crane Guys offers first-rate boom truck rental. When loads are comparatively light and tight spaces must be accessed, our boom trucks consistently come through with flying colors. This service is particularly valuable to the telecom and HVAC industries, for whom we've done a considerable amount of work – all of it to their supreme satisfaction. For these, and other industries, there often is a great need to deliver and remove equipment and personnel in and out of the tightest of spaces. We're pleased to say our boom trucks successfully 'rise' to the occasion every time.
The same holds true for our support services, which include crane lift rigging. When it comes to connecting important components such as spreader bars and cables, our unique rigging system gets the job done with our hallmark emphasis on safety.
The Crane Guys also covers the unique, niche jobs, such as flatbed heavy hauling. For exceptionally weighty loads demanding the utmost protection and care, our fleet of flatbeds serves as nothing else can.
Clearly, The Crane Guys delivery on all key levels, from crane rental and boom truck rental to crane lift rigging and flatbed heavy hauling — all of it capably serviced by our exceptionally proficient crane personnel. Put it all together, and you have a top-flight Southern California crane service company that stands above the rest. That's The Crane Guys.
---
Contact form
---