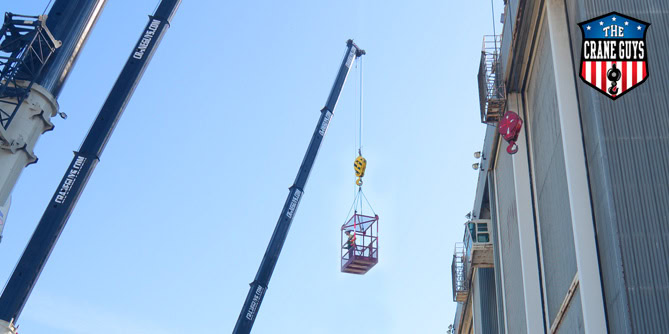 Boom Truck Cranes with Man Baskets
You might say that telecom crane rental and building maintenance crane service meet the highest goals. It is these services that reign supreme when a project takes personnel all the way up, often to the rooftop of towering buildings or to the pinnacle of a cell tower. For a crane rental company, these services present special challenges. The Crane Guys is proud to say that we meet these challenges with consistent success.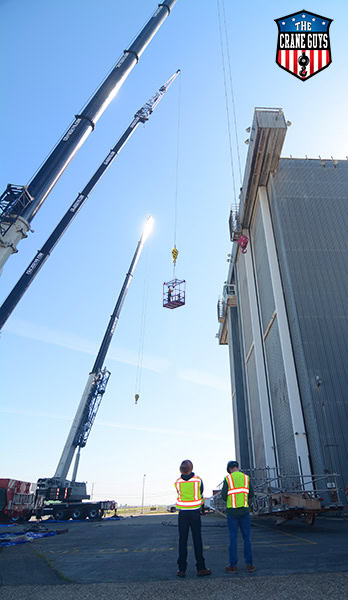 Call Now: (855) 482-7263
Adaptability is one of the key features of our building maintenance crane service and telecom crane rental. The demands of every project vary. So does the selection of solutions we offer. We provide a diversity of suspended and fixed personnel platforms, which can accommodate 1-6 people, depending on needs. Never is two a crowd with our crane service.
The biggest challenge of the telecom industry is, of course, reaching the peak of a cell tower. Not exactly a breeze. The typical tower stands anywhere between 50' and 100' feet in height. For this purpose, we provide first-rate crane suspended man basket service. The big advantage of a suspended man basket (or hanging man basket) is its agility. Among operated cranes, it is the one most easily maneuvered into hard-to-reach locations, allowing precision access to telecom as well as maintenance crews.
Along with reach and access, any large bucket truck service must offer consistent reliability. A big part of this reliability is getting there when needed. Waiting for a crane isn't like waiting for bus. Crane delays can cost a small fortune. The more minutes that tick away, the more money drains away.
Understanding the need for timeliness, The Crane Guys strives to provide the most reliable mobile cranes for hire. Designed for speedy transport, these machines consistently arrive fully equipped and ready for action.
Equally important is their versatility. Our mobile cranes can handle any load, any time – with minimal setup required. This speediness is carried a step further by our crews, who are acclaimed for both their safety skills and technical proficiency. You want it done yesterday. Our mobile crane service ensures it's done one day before that.
The Crane Guys further assist the telecom, maintenance, and other industries by offering first-rate storage facilities. While it's not quite a resort, the company's sprawling Los Alamitos yard can accommodate a wide range of equipment. If you want safe, worry-free storage in an ultra-clean, spacious environment, look no further than this facility.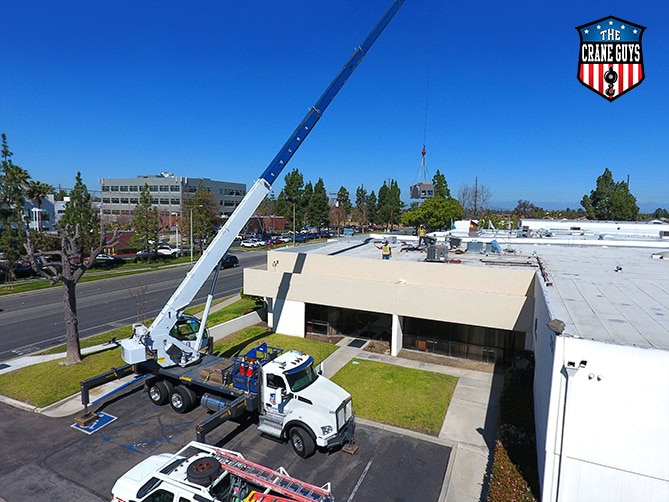 While our crane rental service allows clients to reach the highest heights, we never allow this to happen to our rates. In fact, our mobile crane rental rates are the lowest in town. The most competitive pricing covering everything from hydraulic crane rental to boom truck rental rates are assured by The Crane Guys 5% guarantee –we'll beat any written offer from a competitor by 5%. This guarantee always has been one of the hallmarks of our acclaimed crane rental service.
Do you need services such as boom truck rental cranes in Los Angeles or Orange County California? Don't leave it to chance. Contact The Crane Guys to learn how our local crane rental service offers you the optimal solution at the most competitive rate.