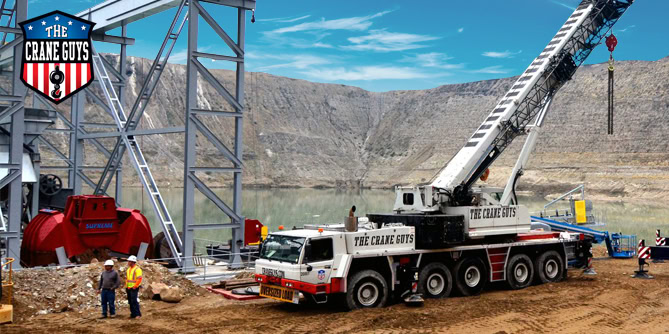 Operated Crane Rental Service
How do you choose an operated crane rental service when there's a major load to lift? How can you be sure the provider will deliver on all its promises? The most reliable way is to choose the operated crane rental service with solid credentials. The Crane Guys has credentials to spare.
Call: (855) 482-7263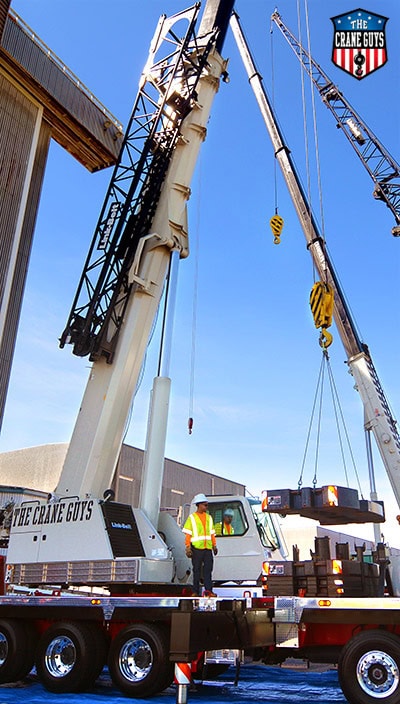 The Crane Guys certainly has earned its stripes. Let's start with the cornerstone of our crane rental service – cranes. Carefully assembled and constantly expanded, our fleet easily meets all challenges. This is no idle claim. Our cranes can move mountains. OK, they don't go that far … not yet, anyway. But they can handle about anything else.
Boom Truck Cranes & Large Hydraulic Cranes
The capability of our fleet is bolstered by incredible diversity. In our stronghold is everything from boom truck cranes to impressively large hydraulic cranes. A crane for every occasion you might say. But how do they stack up when it comes to raw power? Can they hold their own when tackling colossal loads? You bet they can! Our cranes span the gamut, with 3-ton to 265-ton lifting capacities.
Multi-Crane Lifts
Even with the most muscular machines on hand, sometimes one crane just isn't enough. Like those times when you're tasked to lift an airbus. For these special occasions, multi-crane lifts are mandatory. So is extraordinary expertise – the kind that distinguishes The Crane Guys from every other crane rental service.
Why is supreme expertise so important in these situations? Because every additional crane multiplies the already-numerous challenges. It's not just a matter of connecting different machines. Lead cranes and tail cranes must support each other in a well-coordinated series of complex movements. Only meticulous attention to detail can achieve this level of precision. The safety of personnel and public depends on it.
Certified Crane Operators
Safety, of course, always has been a top priority with The Crane Guys. To achieve excellence in this area, we've gone the extra mile to shore up the skills of our staff. Trained to the highest standards, our certified crane operators have earned the industry's most prestigious certifications, including that awarded by NCCCO. Thanks to this preparation, our team can evaluate conditions and implement safe solutions — without wasting precious time.
Given the level of proficiency achieved by this training, our certified crane operators and certified rigging personnel rest on their laurels – but only in their dreams. In the real world, our crane operators and their team members update their skills and knowledge through ongoing training programs. Lifelong students would be an apt way to describe this dedicated group.
Despite the quality of our crane rental service, we manage to keep a lid on crane service rates. Right now that lid is held firmly in place by The Crane Guys' guarantee — we'll beat any written offer from a competitor by 5% — any day, any time.
For your convenience, we offer a wide range of crane service locations. In fact, we cover almost all of Southern California, including Los Angeles County, Orange County, Riverside County, San Bernardino County, San Diego County and Ventura County.
Do you have an important load to lift? Don't leave it to chance. Contact The Crane Guys to learn how our acclaimed operated crane rental service can offer you the optimal solution at the best crane rental rates.
---
Contact form
---