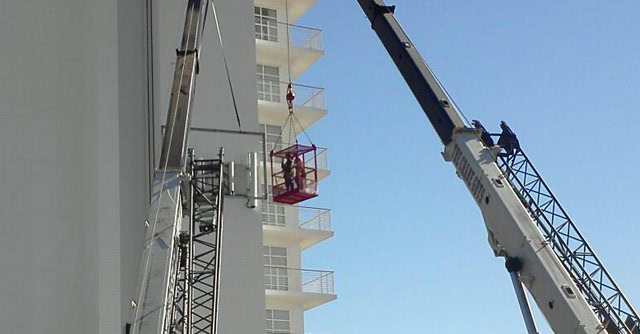 Your Telecom Specialists for crane rental service
The Crane Guys offers the safest, most economical crane service for telecommunications industry in Los Angeles and all of Southern California. As Telecom specialists for crane rental, we save you time and money, without ever compromising your safety. We offer the widest range of personnel platforms  in the state. Also, The Crane Guys carries a wide range of fixed personnel platforms with multiple height capabilities, offering 2, 4, and 6-man suspended personnel platforms, as well as a fleet of personnel platforms that can range from a tip height of 30′ feet to 327′ feet.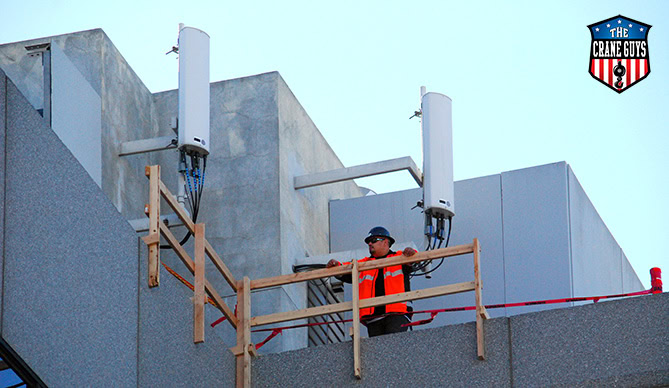 Besides offering the largest and most varied man basket resource in Southern California, our customer SERVICE and dedication to job site SAFETY sets us apart from other Los Angeles crane rental companies. No matter the time or day, we are available 24/7, 365 days a year.
The Crane Guys excels at safety and efficiency on every job site. When the need occurs to service multiple sites in one day, our crane can travel from location to location easily as opposed to having multiple boom lifts at each location.
All of our job site personnel, including operators, riggers, signal persons, are fully trained and current with multiple certifications. Our Safety Program requires all personnel to have multiple certifications and qualifications such as the RF Awareness Training, Black & Veatch approval and Bechtel safety training, resulting in the safest option for crane service in the telecom industry. With our  training, service and experience, we are telecom specialists and can guarantee the very best service.
We are qualified and ready to serve, and adapt to the ever-changing needs and situations that can occur in the telecom industry. Our safety training and experience, combined with our commitment to service and job cost efficiency, gives us a competitive advantage and brings great value to our customers.  If you are interested in learning more about the safest crane service at the best value for your company in the greater Los Angeles area, call The Crane Guys today – Your Telecom Specialists for crane rental service!
Call Us Today! Toll Free: 855.482.7263
or call us anytime 24/7 to discuss your lifting needs.