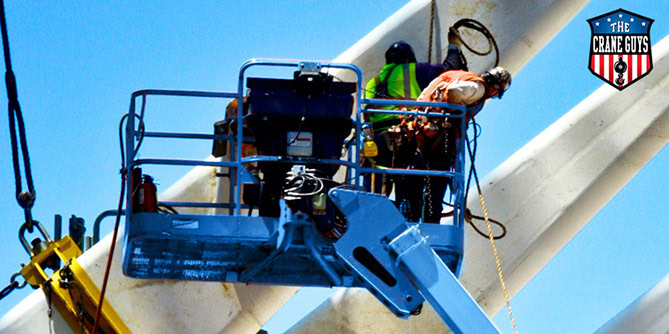 The Crane Guys Bucket Truck Rental Service
Increasingly, bucket trucks are giving work crews access to 'unreachable' areas. If you need such a far-reaching solution, there isn't a better resource than The Crane Guys bucket truck rental service. As with all our other services, our bucket truck rental program offers a wealth of welcome benefits – competitive pricing, exceptional customer service, top tier support personnel, and above all, a commitment to safety that's second to none. Whether you have a major project or a simple job, you'll always enjoy these benefits when we're your provider.
Call: (855) 482-7263
Which industries utilize our bucket truck service? There's quite a range. The telecom industry, for instance, frequently relies on these vehicles for access to cell towers and other structures. But that's only one example. The utility, signage, and construction sectors also make good use of these trucks. So do many other industries including tree trimming. Clearly, versatility is built into our bucket truck rental program. Just as it is with all our other solutions. Which demonstrates that The Crane Guys always is ready to stretch first-rate service as far as it can go.
Bucket Truck Rental
You can be sure The Crane Guys has all bases covered because we offer full-service bucket truck rental. This means, we supply more than the lift; we supply the support services and personnel needed for project completion, start to finish. One of these services is provided by our crane lift planning team. Composed of expert strategists, this team has one goal — to develop airtight lift plans that maximize efficiency and prioritize safety.
Boom Truck Rental
What about the cost? Relax. All our crane rental programs offer the most competitive pricing in Southern California. The cost of boom truck rental is no exception. How do we do it? – The Crane Guys 5% Guarantee. It works like this — you go out into the world and get price quotes from any other crane rental service you choose. There's no limit. Grab all you want. Then bring the numbers to us — and get ready to be amazed. What we'll do next is beat any one of those quotes by 5%. Any of them. No arguments. No hidden costs. Remember, this pricing applies to any of our mobile crane services. And it applies to all support services such as crane lift rigging.
Gold Standard of Customer Service
As with any boom truck rental service on our list, our bucket truck rental program offers the gold standard of customer service. You'll notice this the moment you connect with us. You see, we're fully staffed to take your calls — 24/7/365. Therefore, an actual person always answers the phone and responds to your needs. No recorded greeting urging you to leave a message. And no on-hold music as you wait and wait and wait for somebody to answer. Yes, you'll never experience delays when you reach out to The Crane Guys. We offer Los Angeles crane rental, Orange County crane rental, Riverside crane rental, San Bernardino crane rental and Long Beach crane rental
---
Contact form
---