Trailer Truck Rental
The Crane Guys has a diverse fleet of trailer truck rental which primarily support our Crane service. These trucks and trailers are also available as individual rental equipment to meet the needs of our customers. We can provide flatbed shipments, local and long distance deliveries, drop decks and lowboy trailers to assist in moving over-dimensional cargo and heavy equipment.
Trailer Truck Rental fleet includes:
12′ Flat Bed
26′ Flat Bed
20′ Trailer
30′ Trailer
40′ Trailer
48′ Trailer
65 Ton Lowboy Trailer
Crane, Rigging, Trucking…
The Crane Guys are the premier flatbed truck rental service in southern California, and can go wherever you are—at any time and to any place, so if you're in Los Angeles, Orange County, San Bernardino or San Diego, The Crane Guys will be there for you.
The flatbeds can be rented for a two-hour minimum, and The Crane Guys can provide you with riggers and signal people for an additional cost. You can always expect to work with qualified, certified personnel, and a company that is fully licensed, insured, and certified.
If you do need crane rental service, you've come to the right place. Working with certified crane operators, you have a choice of boom trucks, ranging from three tons to 22 tons. You can rent a three ton and five ton boom truck for a two-hour minimum, while the 14 and 22 ton boom trucks come with a three-hour minimum. The boom trucks are also available with spreader bars, specialty rigging equipment, and fixed two-man baskets. These boom truck cranes can put you on the right track by lifting the heaviest of items so that you can continue on with your project.
Value Added Equipment Storage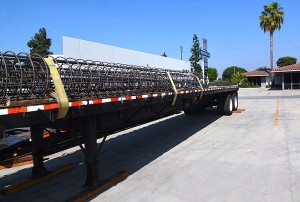 The Crane Guys offer trailer truck rental to transport your equipment. This option is significantly less costly than reaching out to an outside trucking vendor.
Should you need anything on-the-spot, we even provide full welding and metal fabrication services for things like cages and shelters — which we'll safely store until needed.
The Crane Guys go well beyond crane rental services with their top-level equipment storage facilities and truck trailer truck rental service. Contact The Crane Guys to find out what our roomy accommodations can do for your equipment storage needs.
Call Us Today!
Call: (855) 482-7263
Call us anytime 24/7 to discuss your lifting needs.
Services Offered:
City Permit Processing
FAA Permit Processing
Integrated Traffic Control Solutions
Spreader Bars Available For Your Lifting Requirements and Needs