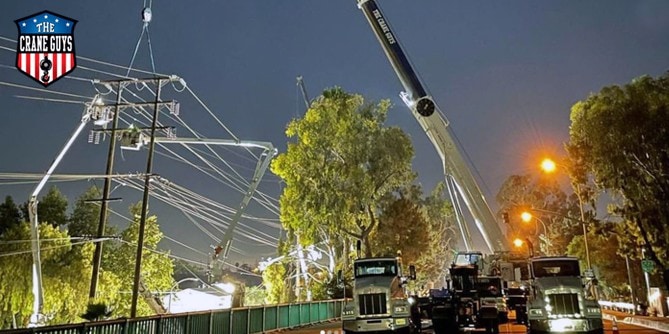 Cranes for Utility Services
It's something we've all experienced at one time or another. Known as a power outage, this unwelcome event is a major inconvenience to everyone affected. Fortunately, when the problem results from a powerline issue, Southern California has a very reliable solution provider in its corner – The Crane Guys. Ready to help at a moment's notice, our company supplies cranes for utility services throughout Southern California. Along with cranes you can count on, we bring to every project a wealth of unparalleled expertise and in-depth experience. Thanks to these assets, we're ready, willing, and able to service a wide range of power line issues with our 24/7 crane rental services.
Call: (855) 482-7263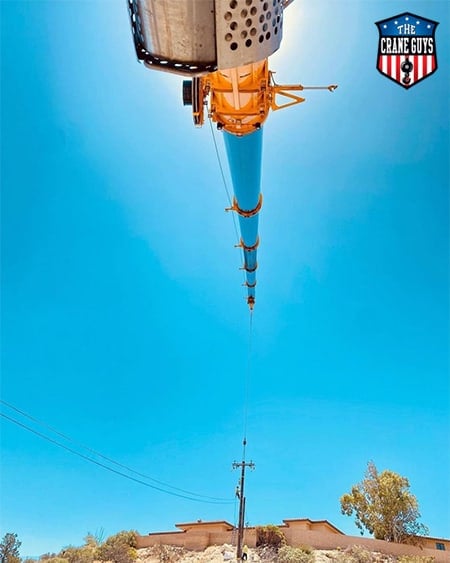 Providing cranes for utility services is a job that demands deep thinking and intensive planning. For this reason, we've developed a planning division built on rock solid expertise. Members of our planning team are thoroughly trained in every aspect of crane deployment. From rigging assembly to lift operations, each move is planned with meticulous skill by these masters. Their attention to detail ensures every project is protected by the most stringent safety standards on the planet. No wonder so many decision makers consider us their go-to high voltage power line crane company.
Mobile Cranes for Power Lines
When you need a utility truck with a crane, you're invariably in a time crunch. People and businesses are out on a limb without power, a situation clearly necessitating rapid response and lightning quick action. You'll get both when you select The Crane Guys to supply mobile cranes for power lines.
How can we guarantee such responsiveness? First, we're well stocked with the two essentials – plenty of cranes and plenty of experience. What more could you ask for?
Contact The Crane Guys 24/7
Also helping to minimize wait times is a staff of friendly representatives. Where will you find them? Right there in our headquarters, where they can do the most good. Yes, at the Crane Guys, we believe in getting it done yesterday. So you'll never – never – get a pre-recorded greeting when contacting our company. What you will get is a friendly, actual person answering the call and matching you with the right solution in record time. This availability is important enough for ordinary assignments. But for the emergency crane service needed for power outages, it's crucial. Waiting is not an option.
Depending on the type of power outage we're dealing with, The Crane Guys might deploy standard mobile cranes or boom trucks. The latter is particularly vital when powerline access is restricted by tight or difficult to navigate spaces. Because these situations frequently arise, we've developed a sophisticated program of boom truck rental capable of addressing a wide range of needs. No matter how restricting the area, these nimble vehicles will find a way in and out with minimum delay.
Given Southern California's expansive geography, we've made every effort to offer crane rental solutions to the greatest number of areas. With that in mind, we've established acclaimed programs of Los Angeles crane rental, Orange County crane rental, Riverside County crane rental, and San Bernardino crane rental. As you can see, when The Crane Guys says we go the distance, we really mean it.
---
Contact form
---