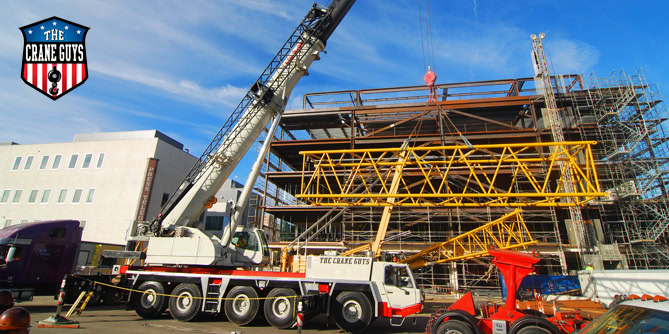 The Crane Guys prides itself on the success of its mobile crane rental. There's an excellent reason for this upbeat attitude – results. Over the years, our industrial crane rental services have helped countless clients achieve their goals. Not only have these clients attained their objectives, they've done so while keeping crews and public well-protected. Our outstanding safety record tells you everything you need to know on that topic.
People may not be cheering in the streets (yet), but they certainly appreciate our performance. How else would you explain the growing list of clients who make us their go-to local crane service? Clearly, there's something special about our mobile crane rentals.
Call: (855) 482-7263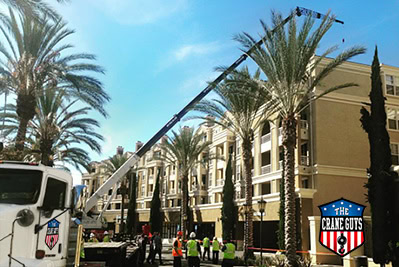 One thing that's special is the way we view operated crane rental. Clients see a mobile lifting crane; we see a whole range of solutions tightly orchestrated. In our eyes, crews, planners, support personnel, crane, and other equipment all are linked with a single purpose.
Mobile Cranes
The Crane Guys also does its due diligence behind the scenes. Long before crane and crew arrive, we launch a series of preparatory steps. Thorough inspections, for instance, enable us to determine the readiness and safety of mobile cranes. During this process, specialized crews examine all critical components, including boom, sheaves, and hydrostatic drives. No mobile crane, or anything else for that matter, deploy until it's fit for duty.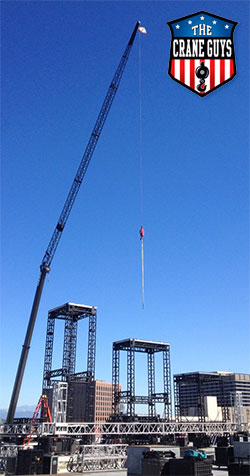 When you get right down to it, The Crane Guys launches its preparations long before the inspection phase. That's when we create our blueprint for the lift project. Known as a 3D lift plan, this is a detailed rendering of the project site that allows us to plot all moves well in advance. Basically, it's our game strategy.
Thorough would be an understatement when describing any of our 3D lift plans. Each one of these blueprints is customized to fit the job at hand, factoring in multiple variables and conditions. Among these are forecast weather conditions, potential hazards, ground-bearing pressures, and crane mat dimensions.
Once completed, a 3D lift plan is subjected to the scrutiny of our expert strategists. Evaluating the detailed picture, these experts can identify the optimum crane and other hardware for every project. Precision deployment is the consistent result of all this painstaking effort.
Worksite safety also gets a major boost from the thoroughness of our 3D lift plans. By getting an advance snapshot of a project site, our strategists can prepare for potential hazards and contingencies. Adding to the safety factor, all these experts are well-qualified with a Level 2 certification.
Jobs, of course, come in all sizes. And you can count on The Crane Guys to handle all. A good size job requiring 40-ton crane rental is never a problem. Nor is anything else. Our fleet consists of everything from 3 to 265-ton cranes. Should a load be beyond the capacity of a single crane, our multi-crane lifts expand our capabilities in times of need.
Boom Truck Rental
In the field of commercial crane rental, swift mobility often is required. To meet this need, The Crane Guys has assembled an extensive fleet of boom truck cranes. Whether you must reach the depths of a ditch or the top of a towering building, your needs will be well-served by our telescopic boom truck rental.
Hydraulic Crane Rental Services
Given the amazing lift-range guaranteed by our fleet cranes, it's easy to see why customer satisfaction is admirably high. No job is to large or too small for us to tackle. But for The Crane Guys, extensive range is not the only advantage we offer. Our hydraulic crane service promises a broad spectrum of benefits, no matter what the project or the scope.
Take our superlative record in the area of availability. This is no trivial matter. Having a wide inventory of hydraulic cranes does little good if they're not available and ready to go. With The Crane Guy, you can bet they will be.
That's saying a lot. In an extremely busy region such as Southern California, it's sometimes hard for supply to keep up with demand. It seems a crane always is needed somewhere, day or night. That intense demand can put quite a strain on a company's inventory. Nevertheless, The Crane Guys consistently manages to satisfy the region's demand. To accomplish this difficult feat, we utilize the full scope of our resources – knowledge, experience, skill, and dedication. The bottom line is this, we'll make sure you have what you need, when you need it.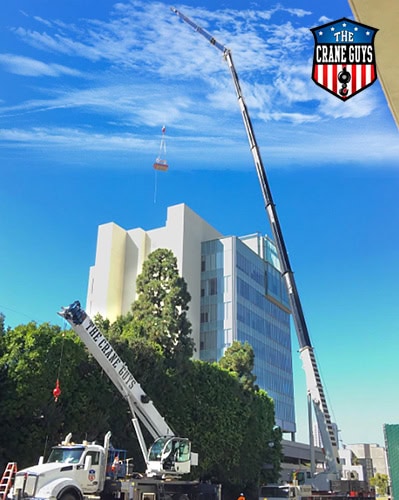 No matter what equipment is deployed, it will be capably handled by a crane for hire team of expert personnel. Our certified crane rental operators and certified crane rigging are qualified by OSHA and other prestigious organizations, guaranteeing maximum safety for every job site. Also contributing to job-site safety is our thorough crane lift planning, which evaluates all conditions and contingencies well in advance.
You'll never need to worry about availability with The Crane Guys on call. We provide 24-hour crane rental services supported by live personnel. Answering machines … what are those? Do you need the right equipment and crew for a major lift? The Crane Guys will provide it.
That's no exaggeration. The Crane Guys is determined to be there when you need us. No matter when you reach out to us for assistance, you can count on an actual person answering the phone. This means, no pre-recorded greeting, canned music track, or any other earful of frustrating sound. With us, you'll get a friendly, helpful voice ready to serve – every time. When we say every time, we mean it. Our consulting staff is always ready, willing, and able to field your calls – 24/7/365.
The upshot of all this is this – you'll never waste a moment waiting for the right crane solution. That goes for arrival times. When you schedule a crane delivery, the machinery will be there right on schedule, with plenty of room to spare.
Don't leave it to chance. Contact The Crane Guys to learn how our acclaimed mobile crane rentals can offer you the optimal solution at the most competitive rates.
---
Contact form
---