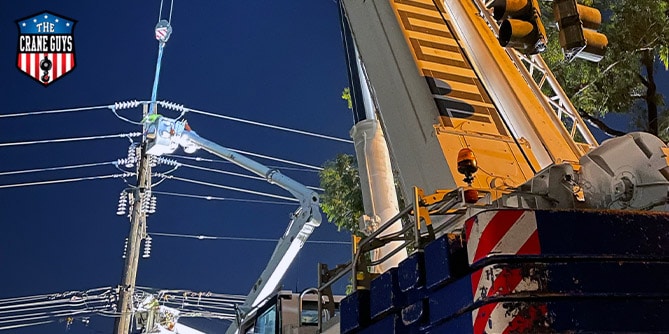 High Voltage Power Line Crane Company
Given the size and activity level of busy Southern California, the area runs quite smoothly — most of the time. There are, however, instances when an urgent situation emerges. Some of these little surprises, in fact, can bring a region to a standstill. For instance, maybe a power line issue is causing a massive outage. This problem often requires the intervention of a high voltage power line crane company. The Crane Guys is such a company. Built on a foundation of experience and skill, we can tackle a wide array of power line issues. And thanks to our signature rapid response capabilities, we can do so in record time.
Call: (855) 482-7263
When providing emergency crane service for power lines, the primary concern is reaching the problem. Fortunately, The Crane Guys goes one better. We have an extensive selection of cranes that provide all the reach you need – and, for good measure, a generous supply of rock-solid lift muscle. Which often comes in handy, by the way. And don't worry about having what you need, when you need it. We have cranes, cranes, and more cranes. So, you'll never hear the words "uh, sorry. We're all out. Come back next week." Nope. We're 100% cranes on-demand.
Contact the Crane Guys Available 24-7
Yes, we're well supplied hardware. We're also well supplied with the best customer service personnel on the planet. You'll discover this the moment you make contact – which will be immediately. You see, we don't believe in answering machines. Therefore, you'll never get one when you call. Instead, you'll be greeted by a friendly member of our team, the members of which are here to answer your calls 24/7/365 – rain or shine.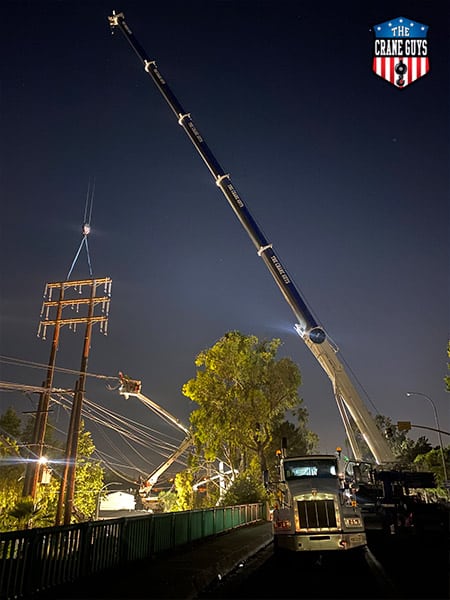 Our 'always there' policy makes it easy to assist the community with reliable 24-hour crane services. Which comes in mighty handy. After all, urgent situations aren't synced to our clocks. They can rear up any time, day or night. No problem for The Crane Guys. We're ready to respond any moment between 12 a.m. and 12 p.m. And not only will we be there with cranes and equipment. We'll also be there with a team of licensed and certified crane operators and riggers to guarantee a job well done.
Since emergency services are a major aspect of our mobile crane rental program, we've developed a range of solutions specifically geared to these urgent circumstances. There's no situation that's beyond our capabilities.
Boom Trucks and Large Hydraulic Cranes
When assigned to a relatively accessible area, we offer large hydraulic crane rental. Our boom truck rental program, on the other hand, provides prompt solutions for tight, prohibitive spaces. Meticulously maintained, our boom trucks have the requisite agility and nimbleness to navigate the narrowest spots. On more than a few occasions, they've come through in what most people would call an impossible situation. But that's our fleet of boom trucks and our exceptional team – both winners any day of the year.
Understandably, every second counts when a situation demands a dependable high voltage power line company. You simply don't have time to find out who works your neck of the woods. No worries with The Crane Guys. We offer emergency crane service in Los Angeles County, Orange County, Riverside County, San Bernardino County. That's something you can count on.
---
Contact form
---