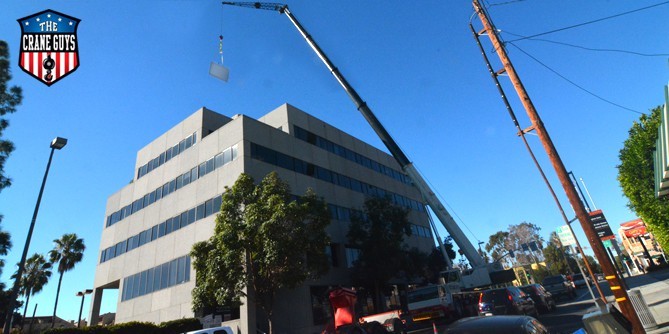 At the Crane Guys, we like to think there's a crane for every job. Depending on the task involved, we provide crane service to fit the occasion. This readiness certainly applies to our handling of glass installation. Whether a window must be placed in a high rise or simply a spot that's forbiddingly difficult to reach, we're ready with the right crane. Even if we must move glass over rough ground, we have the glass lifting crane that can tackle the job.
Call: (855) 482-7263
When we deploy any glass lifting crane, The Crane Guys focuses on more than the machine's mechanical capabilities. We also pay close attention to our primary concern – safety. Our glass lifters are outfitted with abundant safety features that make them well-suited to the goal of protecting people and property. Combine this built-in safety with our expertly trained operators and field personnel, and you have an impeccably protected work zone. Definitely something to feel good about.
Crane Lifting Glass with Vacuum Attachment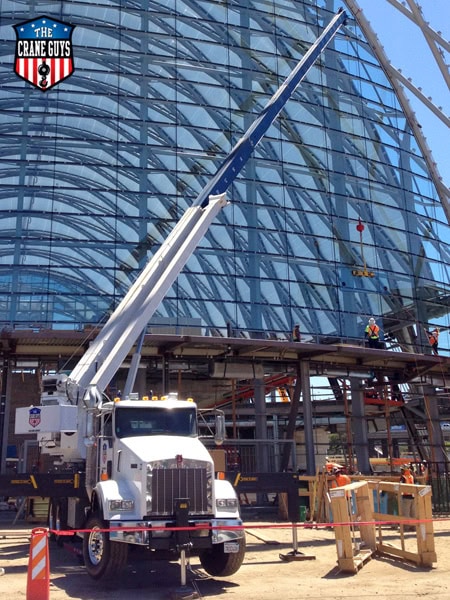 Along with notable safety features, each glass lifting crane in our lineup is powered by extraordinary technical refinements. You might say they're the latest greatest. Thanks to these refinements, these machines expertly perform the difficult tasks associated with glass installation crane rental.
These tasks include not only the formidable hoisting process, but the intensely challenging job of tilting glass panes at just the right angles. In fact, there's often a whole lot of tilting going on when glass is installed. Precise tilting movement is crucial for maneuvering panes into just the right position, as well for maximizing safety.
If we take a closer look at our glass lifters, we can see some of their advanced technological components – and why they're so vital to the installation process. Among these components is the rotating lifter suction device. This is necessary for precise positioning and placement of glass sections.
Crane for Windows & Skylights
Glass sheets, of course, come in a variety of sizes and shapes. Some might be used for standard windows; others for skylights. The Crane Guys is pleased to say we handle them all. And speaking of size, one obvious feature of our glass lifting cranes is their compactness. Yes, they're considerably smaller than the other machines in our crane rental service lineup. And for good reason. When performing hoisting operations, the glass lifters often are required to maneuver their cargo through difficult-to-navigate spaces. A mammoth hydraulic crane simply wouldn't be a good fit – literally. Compactness is one of the necessary advantages of every glass lifting crane in our lineup.
And let's not forget another distinct advantage of these smaller cranes – comparatively lower cost. Because of their relatively modest size, the machines typically require fewer crew members to handle them. Also required on a lower scale is the energy to run the machines. Right there, you have two big cost saving features associated with these cranes. Ultimately, the lower costs will be reflected in reduced service charges.
It's no wonder we can offer the well-known Crane Guys 5% guarantee with our glass lifting crane rental services, as well as with all other services. Here's how it works: We will beat any written offer from a competitor by 5%. Another good reason to go with us, no matter what your crane rental needs.
---
Contact form
---