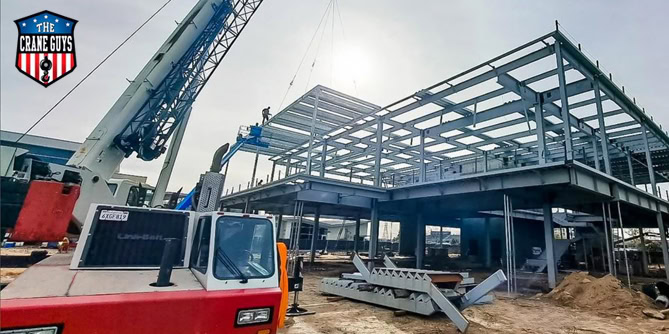 Crane Rental for Contractors
You've got a major construction project, and you need some crane power for heavy lifting. Maybe multiple cranes. No worries. The Crane Guys will deliver. We offer premier crane service for contractors, with solutions that fit like a glove. But we don't stop there. Anybody can offer solutions. We partner with clients. Doesn't matter if your project is large or small. You can count on The Crane Guys to be with you every step of the way.
Call: (855) 482-7263
We get it. You're tied to a schedule. With no wiggle room. No problem. Our mobile crane service for contractors prioritizes schedules. Yours, not ours. As your partner, we feel your time crunch. Getting it done 'yesterday' isn't soon enough. Perfect. You'll be off and running right off the bat, the moment you contact us for crane rental services. Don't be surprised.  An actual, super friendly person will answer the phone. It's our standard policy. No deviations. No pre recorded greetings. And best of all, not leaving a message. Who needs that? You don't. Which is why we're here 24/7/365. No exceptions.
Crane Rental Service Equipment & Personnel
To expedite matters, we stock an extensive selection of cranes. Big, rugged, and plentiful. The inventory encompasses everything from 3-ton rated cranes to 265-ton rated cranes. Virtually everything is on the list — hydraulic cranes, boom trucks, flatbed trucks that can haul it all. And all with the right connections thanks to the skills and experience of our expert riggers. Plus, a full supply of rigging equipment to complete the picture.
With your goals established and needs identified, the lift planning team takes the reins. Everything is in their hands. And what hands they are! Like the rest of our team, they've got experience and skill to spare. More than enough to formulate impeccably thorough plans that leave no stone unturned. Every detail, contingency, and condition is baked into the planning. Load weights, wind velocities, crane movements – they're all meticulously calculated to create the perfect, airtight plan.
3D Crane Lift Planning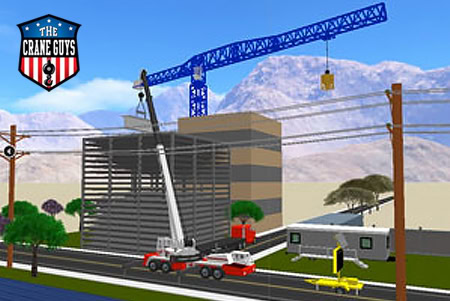 Of course, our strategists have a secret assistant — a software package known as 3D Lift Plan. With this advanced technology managing data, our strategists can create a three-dimensional preview of the project site, complete with crane movements and sundry other critical elements. Surprises, therefore, are greatly minimized, setting the stage for smooth implementation completed on time and on budget.
With a wealth of tools, experience, and know-how driving our operation, contractors can count on The Crane Guys to service any project, no matter what its scope, duration, or scheduling demands. Even if it requires the implementation of more than one crane. That's right. The Crane Guys have a formidable track record performing a wide range of multi-crane lifts.
But even the toughest challenges will be competitively priced, thanks to our truly unique arrangement. Known as The Crane Guys 5% Guarantee, the arrangement works like this – you get a cost quote from any competitor, and we'll beat it by 5%. Guaranteed.
Clearly, you can count on The Crane Guys, whether you're constructing a bridge, an office building, a highway, or a moon colony – OK, we don't do those. But for earthbound construction projects, we have the skills, resources, and experience to be the perfect partner when you need crane contractors. Which leaves only one question — what do you want to build today?
---
Contact form
---