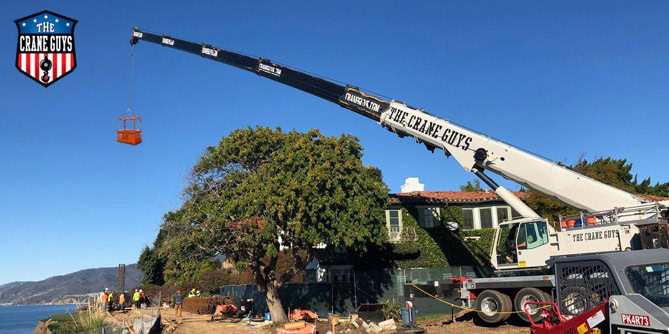 Tree Trimming Bucket Truck Rentals
Got a tree or trees in need of a good, clean trim? Branches on the bulky side? The Crane Guys offers unbelievably convenient tree trimming bucket truck rentals. In fact, we … ahem … branched out into this area quite a while back. So we've got plenty of clipping experience. Doesn't matter what the object is. Spruce, maple, pine, oak, or virtually everything else – any variety under the sun gets the perfect clip from our expert operated crane services team. We're deep with resources, talent, tools, and tenacity. Just the stuff for success. No question about it. If you want the bulk cleaned up and cleared away, we're your team.
Call Now: (855) 482-7263
True to form and our reputation, The Crane Guys never stops at just enough. Which is why we offer a whole lot more in the area of tree trimming bucket truck rentals. Not only do we supply the bucket and personnel needed to clip those trees clean. We'll remove the entire tree if necessary. Crews and cranes are available for lifting and setting large trees any time you need the job done. To carry out the assignment, we're ready with an extensive fleet of hydraulic cranes with enough lift muscle to tackle any challenge. It also helps to have the support of top-flight crane operators, rigging personnel, and planners to set the whole operation in motion.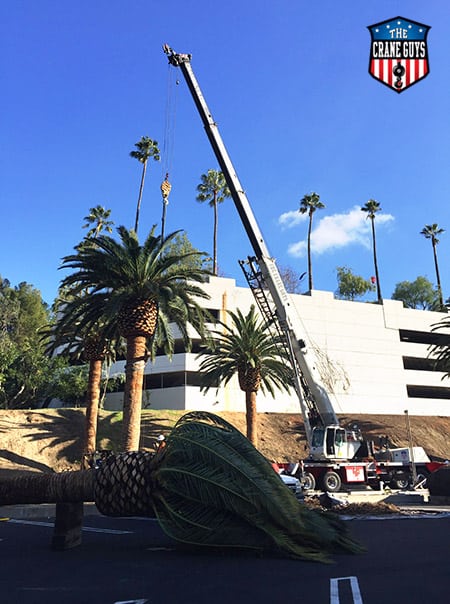 Where might these services come in handy? Many places. For instance, The Crane Guys often provides expert tree lifts for landscaping projects. We've been seen at golf courses, parks, and a variety of other locales requiring landscaping finesse. But we're not limited to landscaping duties. No matter what the purpose of a tree lift, we can handle it with unsurpassed proficiency.
Crane Rental Services
For basic tree trimming, you can't beat our crane rental services for efficiency and reliability. A big part of this is our acclaimed attention to detail. Oh, yes. Bucket operations are a very exacting affair. Many steps are involved, including selecting and preparing the right boom truck rental. No worries there. Our comprehensive bucket truck rental program ensures the complete accuracy and suitability of every selection.
Personel Platforms & Man Baskets
That's only the beginning. There's still the arduous process of fitting the personel platform or man basket to the truck's hydraulic arm. This task requires ultimate precision, as the arm soon will be delivering not massive objects but dedicated crews to a designated altitude, where the assigned trimming duties will commence.
Not surprisingly, every possible safety measure has been built into the personnel platforms that carry work crews to the treetops. Our man baskets are equipped with a full array of safety gear and features, ensuring full protection for all passengers.
While engaged in their duties, crews can reach the stars if so desired. Alright, not that far. Nevertheless, they'll have quite a range of options. The reach of our man baskets ranges from 30' to 327'. So, there's really no branch or leaf that's beyond our access.
Because of the frequent need for tree trimming, bucket trucks are an integral part of our crane rental program. Clearly, this program goes well beyond ordinary lift duties to include many complementary services. Among these is tree trimming bucket truck rentals – a service that never will leave you out on a limb.
---
Contact form
---