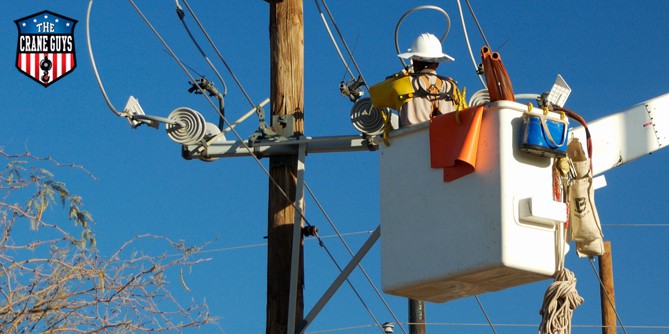 Did you know cranes often lift more than inanimate cargo? That's right. On many occasions, the mighty machines must hoist busy workers to a specific location. This need generally crops up when the work area is high and out of reach. Because of the prevalence of this unique lift need, The Crane Guys has developed one of the premier programs of bucket truck rental in Southern California. When you require the lifting of crews to the highest places under the safest possible conditions, we're guaranteed to get the job done without a hitch. Supporting us in our endeavors is a foundation of unmatched skill, insight, and experience. These take us a long way when your work crew must go a long way.
Call: (855) 482-7263
For lifting purposes, all bucket trucks are equipped with a telescopic, pole-like extension. Attached to the end of this metal pole is a sturdy bucket, which is built to hold a given number of workers. Don't worry about the size of your team. Buckets come in different sizes to accommodate crew loads.
Our crane rental bucket trucks, or bucket truck cranes as they're sometimes called, have the added advantage of being highly maneuverable. Which means, when we're required to access tight spaces, we never have a problem getting into position. Aided by the expertise of our meticulously trained drivers, trucks frequently are steered into impossible places.
Boom Truck Rental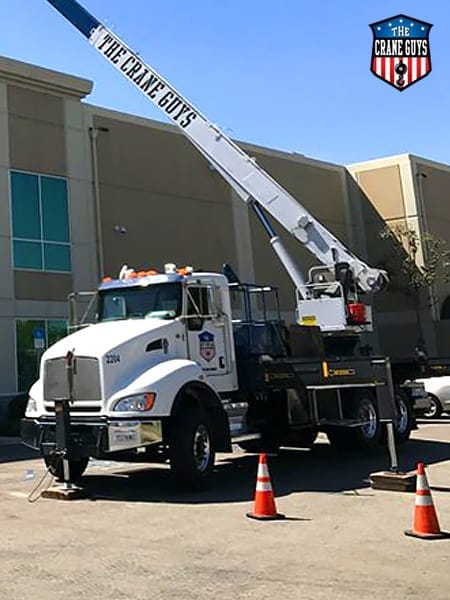 Reach and maneuverability are only two of the advantages offered to clients when they select The Crane Guys for boom truck rental. The other prominent advantage is safety. To meet current safety standards, buckets are built to meet the most stringent safety standards.  The result is a solid, stable platform affording the highest level of protection to crews, no matter what the number of riders. This is right in line with our long-standing commitment to maximize safety on every project we tackle.
Bucket Truck Rentals for Utility Repair
So, what type of projects do bucket trucks most often service? The list is extensive, but generally speaking, the vehicles are most typically sought for the following project categories. The first is telecommunications, for which the lifted platforms carry workers to cell towers and other out of reach zones. Utility repair is another common type of work utilizing the lifted bucket. And let's not forget sign installation, renovation, and removal. A well hoisted bucket comes in mighty handy in the signage field. Yes, these industries, and many others, keep our buckets busy.
Mobile Crane Rental
As with all our mobile crane rental programs, bucket truck solutions are designed to be incomparably reliable and uncommonly affordable. To ensure the latter, we offer all clients The Crane Guys 5% Guarantee. Thanks to this iron-clad promise, you're assured the very best bucket truck rental rates anywhere on the planet. Here's how it works. You simply get price quotes from every crane service you have time to contact. Get as many as you want. Then bring those numbers to us. What will happen next will astound you – we'll beat any price by 5%. No questions asked.
California Crane Rental Service
You might be wondering, where can you find our distinguished California crane rental service? Virtually everywhere. We offer Los Angeles crane rental service, Orange County crane rental service, Riverside County crane rental service, and San Bernardino crane rental service. Yes, you might say we're really going places.
---
Contact form
---