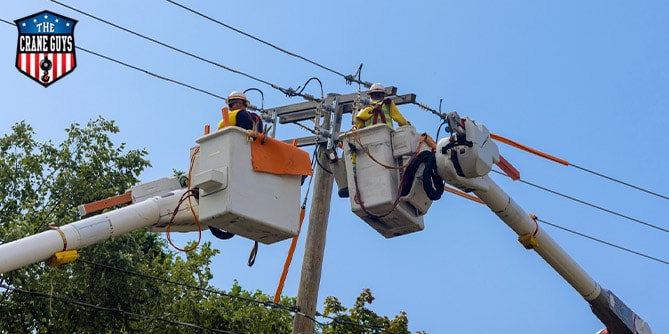 If you were to pick one word to describe a bucket truck, 'versatile' would be right on the money. No question about it. These vehicles, which are sometimes called boom trucks, have dozens of uses for a diversity of industries. Which explains why you'll see them almost everywhere throughout Southern California. Because of this widespread usage, The Crane Guys has developed bucket truck rental into one of its premier mobile crane rental services. We've worked long and hard to perfect our performance in this area. In the process, we've concocted many impressive techniques and strategies — one of the many advantages that distinguish us from all the other guys.
Call: (855) 482-7263
What are some of the many uses of a bucket truck? One of the major ones is that of a power line crane. Whether repairing or servicing a set of overhead power lines, crews generally require a vehicle nimble enough to maneuver its way into a precise location. Under ordinary circumstances, this is no cake walk. Now imagine the challenge of completing this task after a brutal storm. In this case, we might need to navigate through fallen debris and other obstructions before getting down to business. Fortunately, our team is well up to the task, having both superb training and abundant experience to carry them through. They also have the best maintained bucket trucks on the planet, which gives the vehicles a decided edge when it comes to reliability.
Boom Truck Rental Services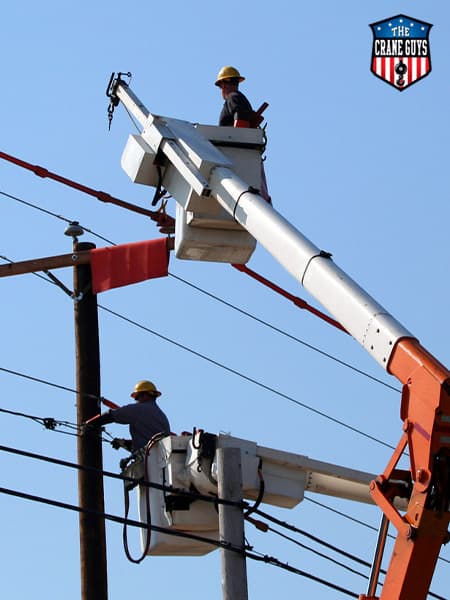 Of course, servicing power lines is only one application of our boom truck rental program. Many other industries and fields also benefit from this crane service component. Cell phone and HVAC companies, for example, are among the entities that make use of our bucket trucks. Many cell towers have received excellent servicing thanks to these nimble vehicles. The same holds true for hard-to-reach rooftops requiring installation or repair of HVAC systems.
As with any other type of crane rental, bucket truck service demands the evaluation of many factors to ensure safety and success on the job. Our team must, for instance, consider 'working height' when deploying a bucket truck. This measurement refers to the maximum level at which a worker can carry out a job safely while the truck is positioned at a standstill.
Side reach is another variable our team often must consider. True, the primary action of a truck's boom is the upward lift of a platform. There are times, however, when conditions greatly limit vehicle maneuverability. Under these circumstances, positioning becomes monumentally difficult. Utilizing a boom's sideward motion option enables our crews to overcome the challenges arising from restricted vehicle movement.
Mobile Crane Rental
These are just two of the many variables we evaluate when deploying bucket trucks through our program of mobile crane rental. You can bet there are plenty more to wrestle with. But no matter how many variables we tackle, The Crane Guys will give them in-depth attention to maximize safety.
Wondering if we're available in your neck of the woods? Not to worry. If you need a reliable bucket truck rental company in your area, chances are we can accommodate. We offer Los Angeles crane rental service, Orange County crane rental service, Riverside County crane rental service, and San Bernardino crane rental service. Just give us a call, and we'll be ready for action wherever you are.
---
Contact form
---