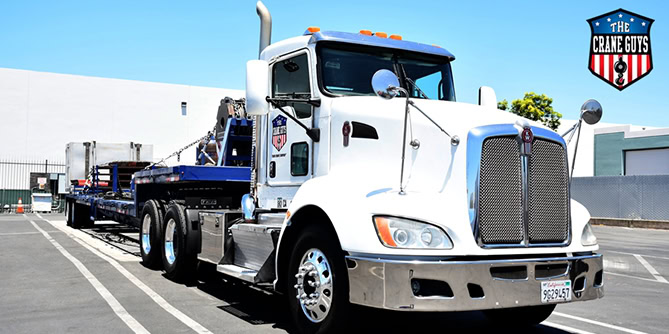 Flatbed Trailer Hauling Services
When you think of a crane rental company, the first thought that probably pops into your head is big lifting machines moving monster-size cargo. But here at The Crane Guys, we offer more than lift muscle. We offer a wide range of services for a wide range of needs and situations. Our flatbed trailer hauling services, for instance, supply a ready, reliable solution when you must transport cargo from one location to another. Don't worry. Distance is no obstacle. We cover virtually all of Southern California.
Call: (855) 482-7263
Besides providing wide coverage, our flatbed transportation services offer a range of other advantages. One of the most appreciated of these is versatility. Yes, in our inventory is an excellent selection of flatbed vehicles ready for action. Our 12-foot flatbed is ideal for hauling average 'everyday' cargo. On the other hand, our 26-foot vehicle is just the transportation for those larger than average loads. But The Crane Guys doesn't stop there. In the event we're dealing with, mind-boggling super-sized cargo, we have a 65-ton rated lowboy trailer that can handle anything.
Licensed Personnel with Unsurpassed Skill and Knowledge
Of course, flatbed transportation services must do more than supply a fleet of vehicles. A comprehensive program also must supply capable personnel to operate the vehicles. The Crane Guys are pleased to say we're well represented in this area. The members of our team, both drivers and support crews, are fully licensed personnel with unsurpassed skill and knowledge. Much of their proficiency has been developed early on through our proprietary training program. This thorough educational program allows candidates to hone their skills to the fullest while earning the industry's most prestigious certifications, including those awarded by OSHA.
Mobile Crane Service
Naturally, when you need reliable solutions to supplement flatbed trailer hauling services, you can count on The Crane Guys to supply the very best. Take our mobile crane service. This is second to none when it comes to versatility, our extensive selection boasting a range of 3-ton rated to 265-ton rated capacities. Which means you'll never be waiting around for the right machine. You'll also never be disappointed when you have an extraordinarily heavy load to move. We're well versed in the art and science of multi crane lifts, something we've been doing since we've been in business. And that's a very long time.
Crane and Rigging Large Hauls
No matter what crane solutions you need, something must keep those loads safe and secure. That something is crane lift rigging. Providing the necessary connections between load and crane, rigging consists of an array of equipment such as spreader bars and various cables. As with all our other personnel, our riggers are experts in their field.
What about hard to access spaces? Do we have solutions to deal with those? Absolutely. Our boom truck rental program can tackle the tight spots with a fleet of amazingly agile vehicles.
Los Angeles Crane Rental & Flatbed Hauling
OK, our services look good. But maybe you're wondering if we service your neck of the woods. Most likely. When providing crane rentals in California, we cover the region from end to end. These are the locations we serve: we offer Los Angeles crane rental, Orange County crane rental, Riverside crane rental, San Bernardino crane rental and Long Beach crane rental. That's 24/7/365, so we're always ready to go. What more could you ask for?
---
Contact form
---