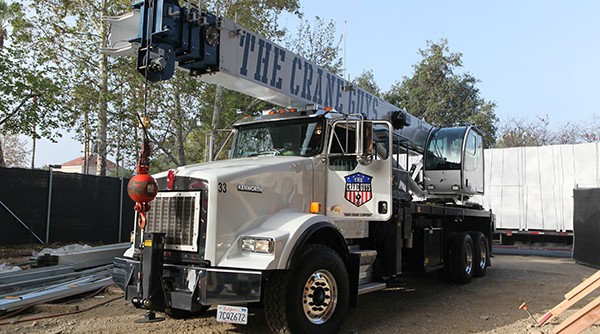 Mobile Crane Service and Hire Rates
Virtually no project is too large for the lift-muscle of a mobile crane. Nevertheless, brute strength alone doesn't guarantee success. Every crane rental job is unique. Which means you better show up with the right crane with the right capacity. Something you'll always do thanks to The Crane Guys' massive fleet of mobile cranes. With our crane rental services, you're guaranteed the perfect solution for every situation. Even the unusual ones.
Mobile Cranes at a Glance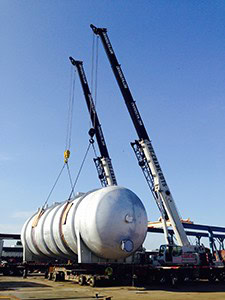 Mobile cranes actually encompass two types of vehicles – boom trucks and hydraulic cranes (a.k.a. 'hydro cranes'). Boom trucks feature a heavy-lifting crane positioned at the rear of the vehicle. You'll often spot these big bruisers planted at a construction site, moving unbelievably large loads. Nothing too challenging for the Crane Guys' boom truck fleet. We got 'em ranging from a 3 to 40-ton capacity, with 100′ – 150′ tip height options.
Living up to its name, the hydro crane relies on a fluid-filled hydraulic system to lift and transport massive objects. Typical cargos include shipping containers and the like. When a lift job is beyond the capacity of other types of cranes, hydros often get the call.
Call: (855) 482-7263
Muscle Machines and Money in Your Pocket
With mobile crane service from The Crane Guys, you get more than machine muscle … You get money in your pocket. That's the promise of our 5% guarantee – with competitive mobile crane hire rates, The Crane Guys will beat any written offer from a competitor by 5%. It's etched in stone.
More Than Mobile Cranes
Mobile crane rental is only one facet of The Crane Guys' impressive repertoire. In fact, we cover you every step of the way. With us, you get expert assistance with everything you need, including rigging, trucking services, and more. This full coverage is an extension of our commitment to unsurpassed customer service. Which is why you can expect us to go the extra mile in everything we do – from the second we answer your phone call to the moment we pack up and leave a job site. You might also appreciate our round the clock availability — We're talking 24/7 – 365 days a year.
Mobile Crane Rental Safety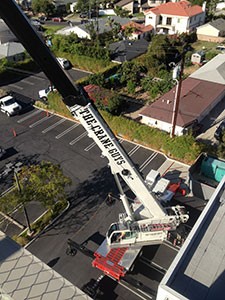 As with all of our other services, mobile crane rental solutions reflect The Crane Guys' stringent, industry-leading safety standards. These standards are most notably embodied in our expert personnel, all of whom receive thorough training in a variety of critical disciplines. To meet our safety requirements, personnel must prove themselves through such qualifiers as the National Commission for the Certification of Crane Operators (NCCCO), Qualified Rigger and Signal Person training, Bechtel Passport, Transportation Worker Identification Credential (TWIC) card, CPR and First Aid, Fall Protection, Railroad Safety and Security Awareness, and OSHA 10 & 30 Construction Outreach.
Are you facing a job that requires major muscle? Count on The Crane Guys' mobile crane rental services to deliver the expertise, customer service, safety, and competitive pricing you need. If you'd like to learn more, reach out to The Crane Guys for more information and answers to all your questions. You'll discover why we're lifting crane rental services to a whole new level.