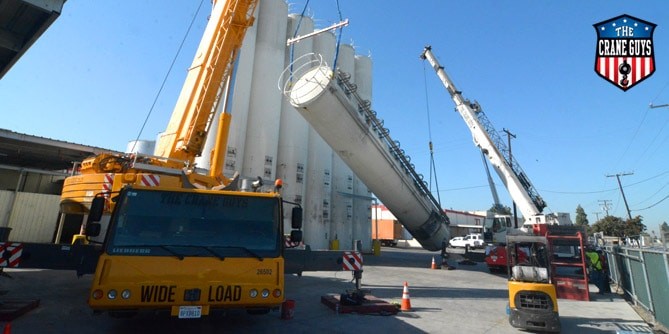 There's a great deal to consider when selecting a crane company for moving. Among the many considerations is the load being transported. These might include silos, structural steel, HVAC units, trees, and even modular homes. Basically, everything under the sun. The Crane Guys is accustomed to transporting such varied cargo. We've been doing it for years and years. And during that stretch of time, we've accumulated unsurpassed skill and extensive experience. These assets are reflected in all aspects of our job performance, which has proven uncommonly reliable on every project.
Call Now: (855) 482-7263
All this should instill confidence in anyone choosing us as a crane company for moving. But let's not leave it at that. People need to understand why we're such a reliable mobile crane company. First, there's our safety record. When it comes to protecting people and property, The Crane Guys is second to none. It all begins with personnel. Everyone on our team has been carefully selected for their uncommon skills and knowledge in the area of safety protocols. These skills have been honed and amplified through our rigorous professional training program. When graduates emerge from this intensive course, they are qualified by an array of important certifications, including the prestigious OSHA certification being among them.
Crane Rental Services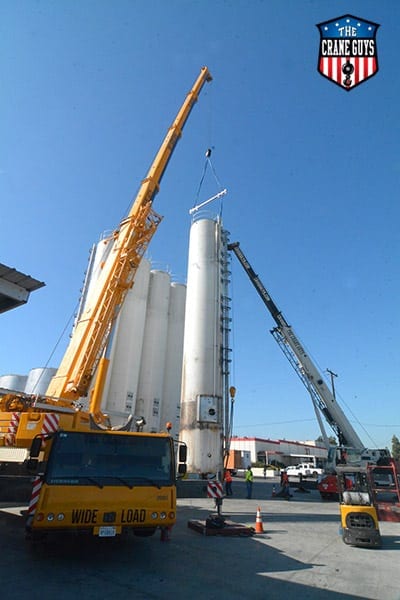 Another reason we're such a reliable moving crane service is availability. Just look at our inventory of cranes. You might say we have it all. Our extensive fleet includes cranes ranging from 3-ton capacity to 265-tone capacity. Yes, we'll always have whatever you need in the way of crane rental.
But availability doesn't begin and end with heavy machinery. It also includes responsive customer service. It doesn't get any more responsive than what The Crane Guys offers. Why? Because we're always in. Give us a call, and an actual person will be there, ready to help. No answering machines with pre recorded greetings. Doesn't matter what you need – a crane, an answer to a question, a quick quote, some information. Whatever. Somebody will be there to provide it. Which means, you'll never endure costly and frustrating delays before getting the crane rental services you need.
Flatbed Trucking
Of course, it's not always about cranes when providing moving crane service. Sometimes other types of machinery must be called into action. For instance, occasionally we face the 'problem load' – the monstrously massive cargo that demands nothing less than a rugged trailer truck. Such specialized vehicles typically are required when there's oversized cargo to transport. No problem for The Crane Guys. We offer exceptional trailer truck oversize hauling service day or night. The same holds true when a flatbed truck is required for those mega loads. Our program of flatbed truck rental accommodates a wide range of needs, no matter how big the challenge.
During the moving process, The Crane Guys also can supply boom trucks as needed. Not only are these vehicles readily available to provide precision maneuverability, they're available at a very competitive price. In fact, as with all our other services, The Crane Guys provides the best boom truck rental rates on the planet. This is assured by our 5% guarantee, which states that we'll beat any written offer from a competitor by 5%. Another of the many reasons to select us as your crane company for moving.
---
Contact form
---