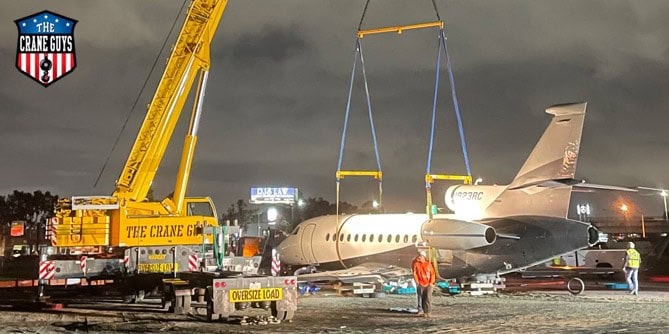 Crane Company for Lifting Planes
In most cases, The Crane Guys has the luxury of advanced notice and an opportunity to plan a crane lift over a given amount of time. Sometimes, however, due to unique circumstances, we must perform emergency crane services. That certainly was the case during our recent aircraft lift at Montgomery Airport in San Diego. As an experienced crane company for lifting planes, our team was well prepared for this extraordinary challenge. Combining in-depth knowledge, extensive experience, and vast resources, we tackled the assignment with customary vigor. The result, we're pleased to say, was very much appreciated by all.
Call Now: (855) 482-7263
The process began on a Monday morning, when we received an urgent call. A plane had crashed several days before, and the craft needed to be cleared ASAP. Rising to the challenge, we assembled our team, loaded up the equipment, and headed to the airport.
The main piece of equipment for this project was a 265 ton-rated crane, one of the supreme stars in our crane rental lineup. Frequently, we use this mighty workhorse when cargo tonnage is on the extreme high end. That certainly was true of the load we were facing.
Emergency Crane Rental Service
Given the time constraints, we had precious few minutes to plan the intricate maneuvers necessary to lift and move the plane. But, always on our toes, we concocted the perfect strategy with meticulous efficiency. This shouldn't be surprising. Rapid response is a hallmark of our crane rental service. It would be needed to remove the cargo, which in this case weighed a hefty 40, 000 lbs. – or about 20 tons. As a first move, the 40, 000 pounds was to be hoisted and set on cribbing blocks, which would provide necessary support. All in a day's work, right?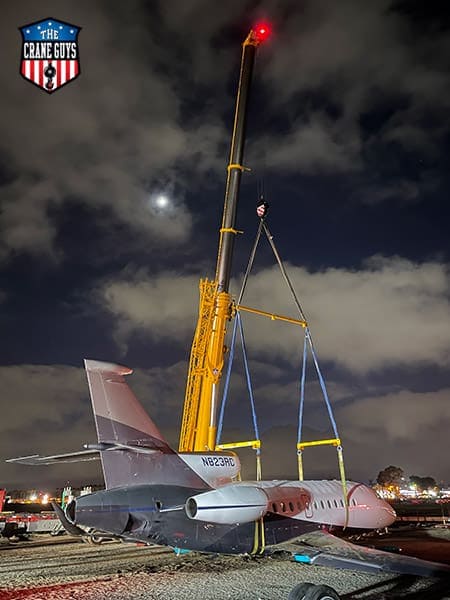 Once the plane was supported and stabilized on the blocks, all remaining fuel was drained from the craft. Our crew then carried out a second lift, this time to a waiting trailer, which would transport the cargo to an onsite inspection area.
Upon reaching this location, the plane again was lifted and lowered onto another set of cribbing blocks. This allowed investigators to examine the craft and determine its fate. Reaching this point, of course, required a massive team effort, with substantial ground support provided every step of the way by our accomplished crew.
Multi-Crane Lifts
It's important to note that much more than a hydraulic multi-crane lift was required to complete this project. For instance, the necessary rigging operations were intricate and extensive. The spreader bars alone were a monumental challenge, as multiple bars were used to keep everything safely secured. Which brings up an important point. With this assignment, as with all other jobs, The Crane Guys went the distance to ensure the safest possible conditions prevailed. Whether people or property, everything is protected when we're on the job – even if it's a monster job like this one.
Our clients, we're honored to say, were extremely satisfied with the outcome. They were particularly pleased with our crew. So were we. In fact, as we see it, the Crane Guys team went above and beyond the typical scope of work. During the project, they meshed and coordinated perfectly with our client's personnel to complete the project with optimal safety and efficiency.
It's easy to see, then, that for The Crane Guys, hydraulic crane rental covers a great deal of territory. We can be many things, from a crane company that provides simple lifts to a crane company for lifting aircraft. It's all part of our acclaimed versatility.
---
Contact form
---