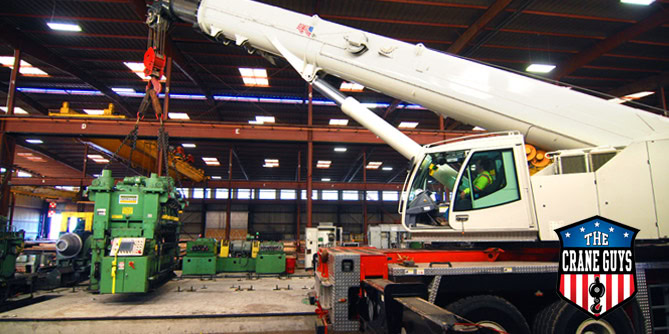 Before you hire a crane for an industrial project, consider all the factors involved. One of the most important factors is the crane service you select. With so much on the line, a trustworthy provider is essential. From start to finish, the chosen crane rental company must be unfailingly reliable. The Crane Guys certainly qualifies for this distinction. With years of experience and a stellar track record, we convert every project into a major success story.
For The Crane Guys, industrial crane rental involves a great deal more than delivering machinery. You might say we're like coaches – we offer the best crane rental and crane rigging capabilities available. Ask us anything about cranes, and you'll discover we know them inside and out. From the winding drum and slewing platform to the hoist rope and upper sheave, cranes are something deeply ingrained in our knowledge base. Thus, when we provide operated crane rental, we also provide you the benefit of valuable knowledge. As a result, you'll always get the right equipment for the job. No miscalculations; no second guessing.
Call: (855) 482-7263
Is there one star performer in our crane rental lineup? Not really. Every member of our fleet holds its own in any situation. Each has a job to do and the capability of doing it extremely well.
Crane Rental Services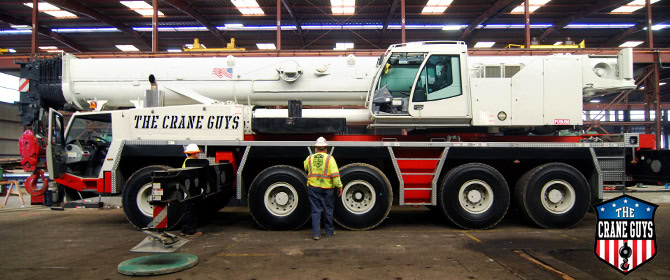 Our hydraulic crane rental service, for instance, offers ideal solutions for projects requiring the ultimate in brute strength and precision. We've employed hydro cranes to lift everything imaginable. The list of hoisted items includes a rather large DJ platform at a music festival, towering netting poles positioned on a driving range, and an Airbus. The latter weighed in at a modest 140,000 lbs. – undeniably in the upper echelons of raw tonnage. There's just not limit to what our hydraulic crane rental can cover.
Boom truck rental is another important dimension of our mobile crane rental program. As with our other services, this offers an incredibly diverse selection. In our fleet you'll discover the perfect boom truck for your project, with capacities ranging from 3-40 tons. Tip-height range is equally extensive, covering everything from 100' – 150'. Our boom truck crane rental also includes spreader bars, specialty rigging equipment, and fixed man baskets if needed. Because of this depth and versatility, The Crane Guys' fleet of boom trucks can deliver on virtually any job, small or large.
Done Right & On Time
You'll be pleased to know that our industrial crane rental services match quality performance with very competitive rates. In fact, thanks to The Crane Guys' guarantee, there are none more competitive. Our guarantee is straightforward and simple — we'll beat any written offer from a competitor by 5%. Any day of the year.
Do you have a major load to lift? Don't leave it to chance. Contact The Crane Guys to learn how our acclaimed industrial crane rental service can offer you the optimal solution at the most competitive rate.