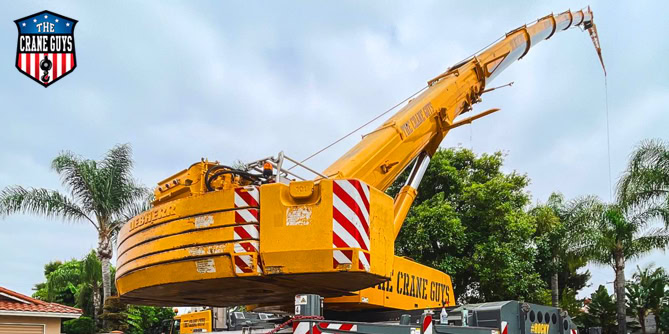 Where do you go when a major lift construction project looms? If you want the job done right, you go to a team of proven experts with a widely acclaimed, comprehensive crane rental program. A provider that cares enough to go all out for every client. That pretty much sums up what The Crane Guys offers throughout all of Southern California. We've got the personnel, trained to perfection, of course. We've got the knowhow. And we've got experience galore – thanks to  many years of superb service. That's a tough combination to beat.
Call: (855) 482-7263
Our crane rental service is so all-encompassing that it's hard to know where to begin. Well, might as well start with the cranes themselves. Here at The Crane Guys, you'll find these machines in great abundance, with a wide range of lift capacities available with the fleet. For 'light' duty, we have cranes with a 15-ton rating. And if you've really got a monster load to tackle, we can provide a machine with a 265-ton rating. And everything in between. In fact, we can supply more than one machine if your project requires a multi crane lift. The main point is this — we'll have exactly what you need when you need it.
Mobile Crane Rental
Not only does our mobile crane rental program offer an extensive, ready selection; it offers these fine cranes at the best possible prices. We can say this without hesitation because of a special deal we've got going all year long. We've named it, appropriately enough, The Crane Guys 5% Guarantee. It's relatively simple to take advantage of this unique offer. Just get some price quotes from our competitors. No limit. Grab as many as time allows. Then come back to use with all the numbers. What we'll do next will amaze you. We'll beat the quotes by a generous 5%. That's an ironclad promise.
So now you know. You'll get the best in crane rental for the best price. And thrown into the deal will be the best personnel on the planet. No amateurs here. Just experts. Rigorously trained, extraordinarily experienced kings of their craft. Example – our crane lift operators. With this crew at the controls, you can be 100% confident that accuracy will prevail. You might say they  have the golden touch when it comes to guiding a heavy load off the ground and onto its intended destination, whatever or wherever that may be.
Crane Lift Rigging and Signaling Personnel
Our rigging and signaling personnel are equally impressive and deserving of high praise. As with everyone else on our team, they make safety a #1 priority. Whether they're fastening spreader bars, cables, or any other piece of equipment, you can bet it will be secured with the utmost care and precision.
3D Lift Plan
Whatever the action out in the field, it's all been planned to perfection. You see, The Crane Guys utilizes both a top-notch team of strategists and a software package known as 3D Lift Plan. With this technology, we develop – you guessed it — 3D lift plans for all projects. Each plan gives us a three-dimensional on-screen blueprint of a project site. We digitally can move a crane through its complete lift process in a kind of preview rehearsal. Adjustments needed? These can be made with a few on screen recalculations.
Now what about the locations we serve? You'll love the options. For crane rentals in California, we offer crane rental in Los Angeles County, crane rental in Orange County, crane rental in Riverside County, crane rental in San Bernardino County and crane rental in Long Beach. But who knows… we always can add a few more. Give us a call.
---
Contact form
---