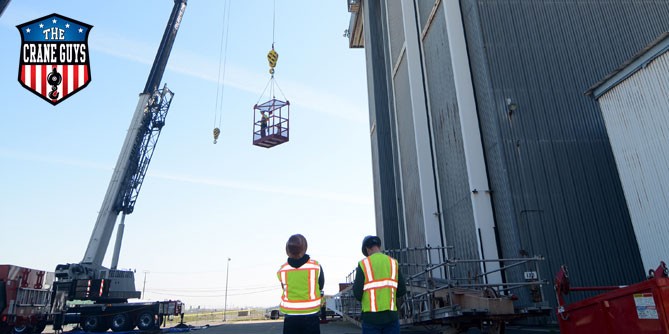 Whether you call them man baskets or suspended platforms, these important components often are used when a job requires a specialized lift. The crane man basket typically is deployed when equipment such as ladders and scaffolds simply won't get the job done. Given the importance and extensive need of this component, The Crane Guys has developed a top-notch man basket rental program.
Call: (855) 482-7263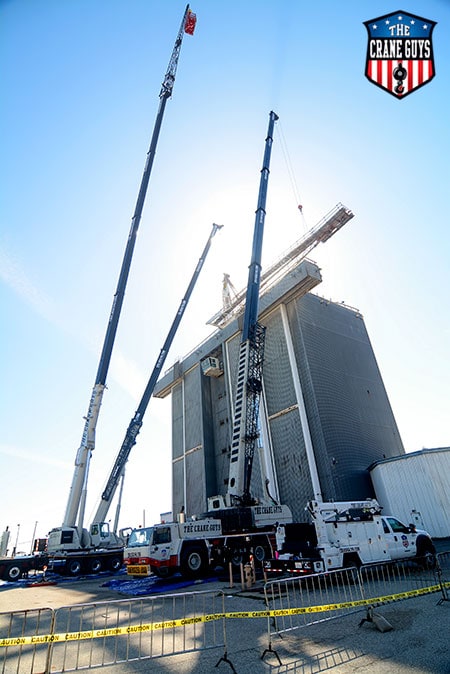 Crane Rental Service
As is the case with all our other types of crane rental service, our handling of man basket rental prioritizes safety. Therefore, we make sure that every deployment of a suspended platform rigidly conforms to Title 29 of the Code of Federal Regulations, Part 1926.550(g). This code regulates the deployment of man baskets. Additionally, The Crane Guys strictly adheres to OSHA guidelines pertaining to this regulation. Yet another example of the many ways in which we strive to maximize safety.
A variety of deices can be employed to secure man baskets and ensure the safety of suspended personnel. Among these are shackles, various links, hooks, and bridles. These necessary connections are part of our rigging equipment, which secures each platform to a crane. Not only does this rigging equipment create a solid connection, it also helps minimize basket instability and tipping risk.
On top of this, The Crane Guys makes sure every platform load is evenly distributed. This necessary balancing step reduces strain on any one area of a basket, such as its bridle leg. Implementing this and all other safety measures naturally requires an expenditure of time. But in the end, the effort helps ensure much safer conditions for all concerned.
Crane Rental
While man basket crane rental is relevant to a variety of industries, this service is particularly beneficial for telecom-related projects. It's easy to see why. A significant part of the telecom industry depends on cell towers for service delivery. As with other high-performance equipment, towers inevitably will need servicing. Perhaps a component requires removal and/or replacement. Maybe an adjustment must be made. The Crane Guys has the hardware and the crew to get the job done safely and efficiently.
Just look at our suspended personnel team … all experts. And their expertise is balanced by a long-standing commitment to safety. All operators, riggers, and signal persons are meticulously trained and fully qualified by the industry's premier certifications. Along with other certifications, they have received RF Awareness Training, Black & Veatch approval, and Bechtel safety training. It all adds up to the highest safety standards on every job.
Boom Truck Rental
The skill, performance, and commitment of our man basket personnel is suitably matched by our hardware selection. We offer an extensive fleet of boom truck rental, which provide transportation for suspended platforms and the cranes that do the lifting. And don't worry about versatility. Our inventory boasts an extensive range of fixed personnel platforms, which can reach a variety of heights. (Tip heights range from 30′ to 327′) Depending on need, our man baskets can accommodate 2, 4, or 6 crewmen.
With 5g just around the corner, boom trucks and man baskets will play a vital role in the installation of the new required antennas. Rest assured, The Crane Guys will be right there in the thick of the action. But it doesn't matter what your telecom need is. Whether you're tearing down old cell sites from a building or installing new 5g antennas, The Crane Guys man basket rental program offers the trained, certified personnel and equipment necessary to ensure success.
---
Contact form
---