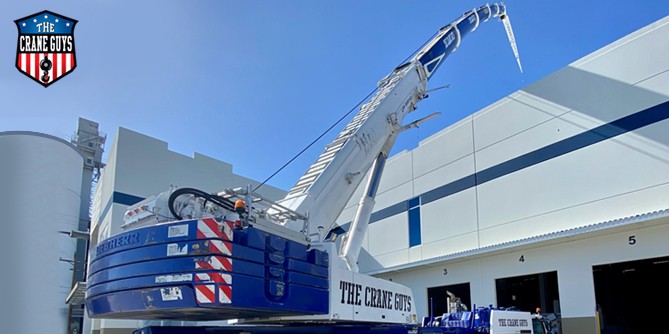 Crane Lifting Equipment onto the Rooftop
What do you think of when you see a crane lifting equipment onto the rooftop? If you share the same vision as The Crane Guys, you see one important component in a sophisticated system of many solutions. No question about it. When we deploy a crane for major duty, including rooftop lifts, you can be sure it's one piece among many moving parts, each supporting the other. That's the way we design all our solutions – to be an important part of a greater whole. For The Crane Guys, nothing stands alone; nothing works alone. All tools and solutions are mutually supportive.
Call: (855) 482-7263
Take, for instance, the contribution made by our crane lift rigging solutions. These solutions literally hold every lift operation together, keeping each load secured to its assigned mobile crane. To create these secure connections, our team utilizes a variety of rigging tools and components. Among these are wire ropes, turnbuckles (metal couplers), shackles, and slings. Of course, before making any rigging choices, we must ascertain exactly what we're dealing with. How massive is the prospective load? How much does it weigh? These and similar questions must be answered long before any work begins.
Crane Rental Services
What's also important before the work begins is the impression we make when people contact us for crane rental services. We think it's a good one. Our customers agree. A big contributor to that positive first impression is our availability. When contacting our office, customers invariably will make a very pleasant discovery — which might leave them momentarily surprised. That discovery is this – a real person will answer the phone and greet you with a delightfully friendly voice. Then that person will find out exactly what your needs are and match you with the ideal solution. No pre recorded greetings. No hold time. No frustration. Just ready solutions for busy people with tight schedules.
HVAC Crane Rental Service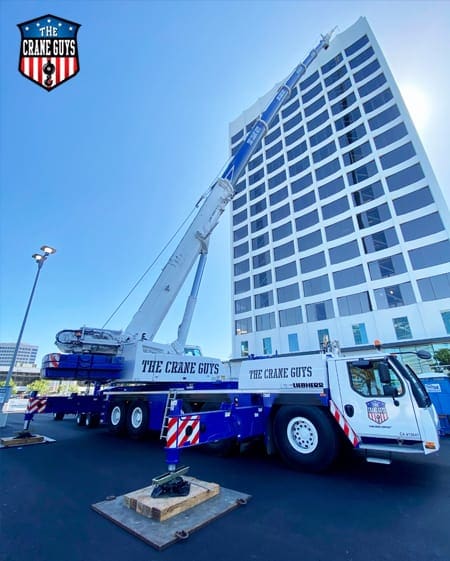 What type of equipment does The Crane Guys typically lift onto rooftops? We pretty much cover the gamut. Among the requests we get, calls to hoist HVAC equipment is one of the most common. Because this type of lift is so frequently requested, we've developed a sophisticated program of HVAC crane rental to meet the varied needs of our customers. Much of the time we're hoisting new HVAC systems to rooftop locations for replacement purposes. And while we're at it, we'll be removing the old systems.
Crane Rental
No matter what equipment we happen to be hoisting, you can count on our pricing to be more than satisfactory. You see, along with exceptional crane rental service, we offer The Crane Guys 5% Guarantee. This means, when you get a quote from any of our competitors, we'll beat that number by 5%. Guaranteed.
When you need a crane for lifting equipment onto the rooftop, you clearly can rely on The Crane Guys for optimum price, performance, and availability. In fact, among California crane rental services, we're about as available as you possibly can be. We offer Los Angeles crane rental, Orange County crane rental, Riverside County crane rental, and San Bernardino crane rental. What more could anyone ask for?
---
Contact form
---