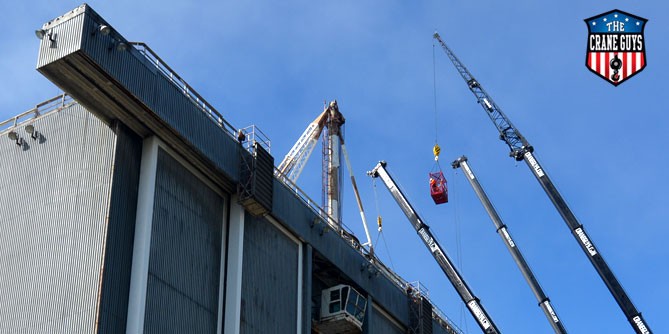 Temporary Suspended Platform and Crane Rental
While not always paired, the words temporary suspended platform and crane rental naturally go together. That's because our acclaimed crane rental operations often call for the lifting of personnel via special platform.
Call: (855) 482-7263
Sometimes called a man basket, the personnel platform is utilized for accessing areas out of reach by ordinary means. If a ladder or scaffold can't do the trick, the platform often fills the bill. The upper regions of a cell tower are one of the areas requiring the elevating powers of a man basket. But bear in mind, the platforms aren't self-powered. They require powerful cranes to lift them into place. For this task, the basket is attached to the tip of crane and hoisted to a specified area, naturally with an able-bodied crew aboard.
Given our depth of services, it's no surprise that The Crane Guys offers a wide range of man basket options. As is typical of our services, there's a solution for every situation.
When considering options, the first question we like to answer is — how far must we go? Somewhere between the clouds and the ground is the answer. Fortunately, our reach capabilities can carry us to any spot in that spectrum. We can go on a short distance with 30' man baskets. Or we can stretch out the journey by delivering crews to as high as 327' above the ground. There's really no place beyond our reach.
Suspended Platform Services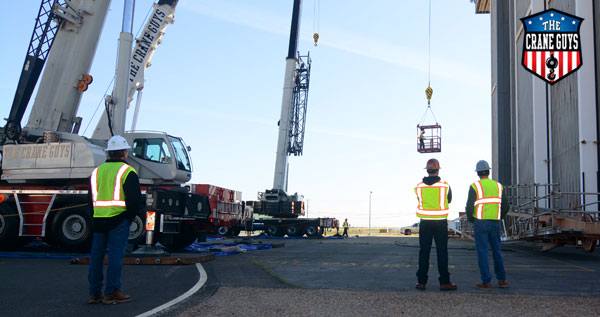 Equally important is passenger capacity. You can bet it's never overcrowded on a man basket operated by The Crane Guys. Our platforms can easily accommodate 2, 4, or 6 crewmen, depending on need. And whatever the crew size, all baskets are available 24/7.
Where are man baskets typically employed? One of the most common places to find them is at the top of cell towers. Personnel platforms often are called into action when cell tower servicing or cell tower removal is required. These antennae can reach up to 200' in height, so long distance travel often is a must. Whether repairing or upgrading the cell tower equipment, crane operators and crews must carry out all operations with unfailing precision. Baskets aren't just hoisted; they're carefully maneuvered into the perfect position. No problem for The Crane Guys. Thanks to their thorough training and in-depth experience, they consistently excel at their jobs. Some say they do the impossible. Not quite, but close.
As with all our other services, safety is the number one priority when deploying man baskets. One reason we confidently assure safe operations is the training and skill of our personnel. Anyone taking a basket ride will be well-qualified by important certifications, such as the OSHA designation.
It's perfectly natural to be concerned about man basket safety. After all, the platforms are traveling a long way above the ground. Rest assured, The Crane Guys complies with all suspended platform regulations. Every basket operation conforms to Title 29 of the Code of Federal Regulations, Part 1926.550(g). Additionally, operations are in full compliance with relevant OSHA guidelines. That's quite a layer of protection. But you should expect nothing less from The Crane Guys. When it comes to safety in the area of temporary suspended platform and crane rental, you can count on The Crane Guys to make it a priority.
---
Contact form
---