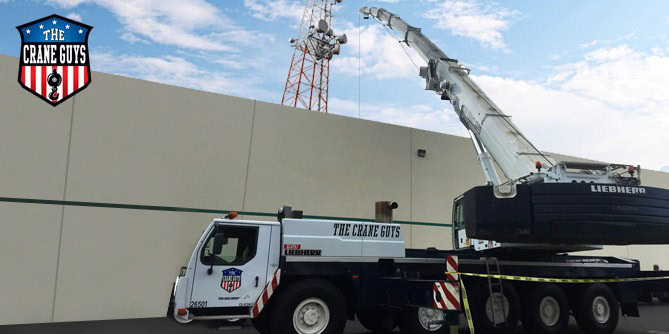 With 5g on the horizon, many changes are on the way. One of these changes will be the installation of new cell towers capable of powering the upgraded system. Of course, since new towers are going in, the old ones are coming out. Which means affected areas will have a substantial need for cell site removal services. The Crane Guys will be among the leading providers of those services. With a fleet of powerful cranes and top-flight crews, we have ample resources to carry out any cell removal project.
Call: (855) 482-7263
Municipalities can be confident in the reliability of our crane rental cell site removal services. Consider, for instance, that The Crane Guys is a Black & Veatch approved partner. Known for its exceedingly high standards, Black and Veatch is a premier engineering, procurement, consulting and construction company. It has been operating for a century, with a long track record of notable projects. Being chosen as their partner is a testament to our commitment to safety and high-quality service.
Bear in mind, Black and Veatch doesn't take partner selection lightly. As with The Crane Guys, the company sets the bar extremely high when it comes to performance. To meet its rigorous standards, you must excel in everything you do. We think their endorsement speaks for itself.
But there's another notch in our belt – The Crane Guys also is Bechtel safety training certified. Launched in 1898, the Bechtel company is a world-acclaimed engineering, construction, and project management firm serving industry and government.
What criteria does Bechtel use for certification? For starters, selected companies must comply with a wide range of applicable laws and regulations. Chosen providers also must meet the requirements set forth by Bechtel's Environmental, Safety and Health (ES&H) standards. Clearly, certification from this leading firm speaks volumes about our on-the-job safety record and performance.
The above certifications as well as our outstanding track record demonstrate our reliability. Which means you can count on us when it comes to even the toughest cell site removal project. This should come as no surprise. We've been providing crane rental services to the telecom industry for years. Not only have we supplied the industry with a ready fleet of cranes, we've also provided first-rate personnel and equipment such as suspended baskets.
These man baskets, as they're sometimes called, are a critical component of any cell tower project. Typically accommodating multiple workers, the man basket is utilized to hoist personnel to specific areas, such as a rooftop. Naturally, these baskets require a trained operator to guide the lift.
Telecom clients will be pleased to know that we offer a diversity of man baskets (or personnel platforms). In our inventory are platforms that can carry 2, 4, and 6 crewmen. Tip height ranges from 30′ feet to 327′ feet.
To maneuver these platforms with pinpoint accuracy, The Crane Guys commands a fleet of rugged boom trucks. Quick and responsive, they transport man baskets to virtually any location, any time.
It's easy to see that The Crane Guys is ready, willing, and able to tackle the challenges of cell site removal. We've got the cranes, support equipment, and personnel to help usher in the new era of 5g sophistication. Just give us the job, and we'll get it done.
---
Contact form
---