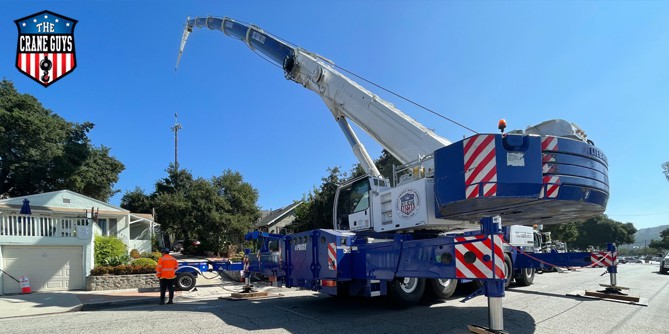 Who can you rely on when you need a local crane service in a hurry? If you're in Southern California, the best provider in this category is The Crane Guys. We offer local crane rental for a wide variety of needs. And we offer it in record time. Why is this important? Well, for starters, few people can afford to wait around while the ideal crane rental company is located. As the minutes tick away, the dollars drain away. Which generally isn't the best way to kick off a project. With The Crane Guys right here in your backyard, you never have to worry about this situation. We're right there where you are.
Call: (855) 482-7263
Along with the rapid response you'd expect from a mobile crane rental service, one of our most notable characteristics is affordability. This affordability is assured by what we call The Crane Guys 5% guarantee. It works like this. Get some quotes for mobile crane rental services from any number of providers you care to contact. Get all you want. We don't care. Then when you're done, bring those quotes to us. And you know what we'll do next? We'll beat any of these quotes by 5%. No questions asked. No haggling. No hidden details. Just a 5% savings right off the bat. How's that for inflation fighting savings?
Mobile Crane Rental Service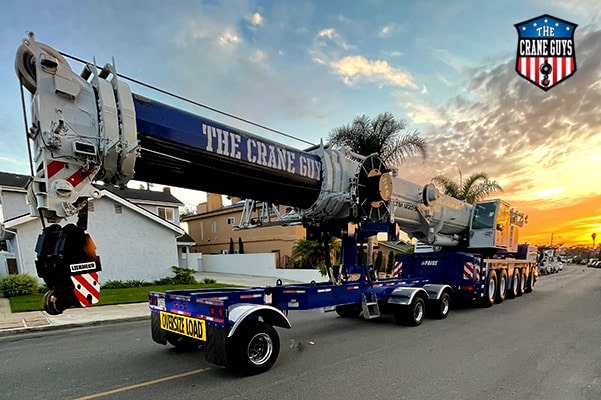 But here's the real kicker – despite the generous savings we offer you, The Crane Guys never cuts corners or skimps. You'll always – and we mean always – get premium service, performance, and reliability from us. This goes whether you have a small load to lift or a massive monster requiring multiple cranes to get the job done.
The Crane Guys Commitment to Excellence
You'll experience this commitment to excellence from the moment you make first contact. You see, when phoning our offices for crane service near me, you won't get one of those pre-recorded greetings instructing you to call back later — or equally annoying, a 'we'll be with you in a minute' message that puts you on hold for quite a bit longer. Nope. You'll get an actual, friendly representative who'll assess your needs with precision and match you with the right solutions in lightning speed.
Helping us serve you at lightning speed is our extensive selection of cranes. In our inventory is everything from 3-ton rated cranes to 265-rated cranes with muscle power to spare. So whatever the cargo, we're equipped to handle it. As a result, the time from crane request to delivery and deployment is astoundingly short. Combine this brevity with the rapid response of our service reps, and you've eliminated excessive wait times. You've also eliminated the brutal costs associated with those long, wasteful stretches.
Boom Truck Rental
As a truly full-service provider, The Crane Guys has it all and does it all. Our program of boom truck rental is just one of the ways we round out our crane rental program. This service is most often utilized when jobs take place in narrow or otherwise restricted access spaces. When this challenge emerges, a boom truck often provides the only means of squeezing into these confined areas. Combined with our boom truck team, these vehicles make it possible to hoist personnel and equipment to otherwise impossible-to-reach spaces.
Sometimes, our acclaimed crane rental service must respond to urgent situations, such as those involving power line issues. Fortunately, we've developed a sophisticated program of emergency crane service. Along with an array of other functions, this program provides rapid response mobile cranes for power lines.
Reliable and local… What more could you ask of a California crane rental company? Well, you could ask for local crane service that's conveniently close to wherever you are. And with The Crane Guys, you'd get it. We offer Los Angeles crane rental, Orange County crane rental, Riverside County crane rental, and San Bernardino crane rental. Yes, we've got California covered.
---
Contact form
---