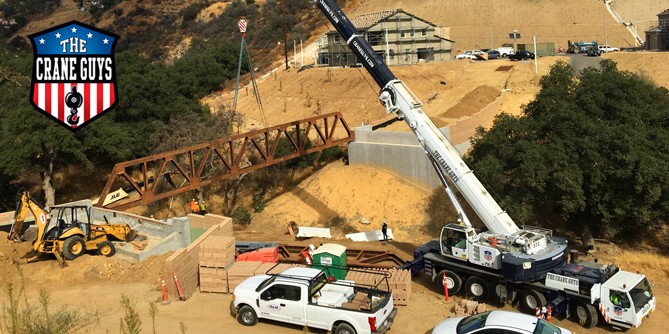 How to Order Crane Rental Service
If you're responsible for a project requiring the lift-muscle of a crane, you might be wondering how to order crane rental service. Well, your first step is to contact the right crane rental service. A provider that understands your requirements and meets them with precise solutions. This description fits The Crane Guys perfectly.
Once you select The Crane Guys, you will no longer be wondering how to order crane rental service. You're well on your way with the team that knows the crane terrain. You see, we take care of all the details the minute you connect.
Call Now: (855) 482-7263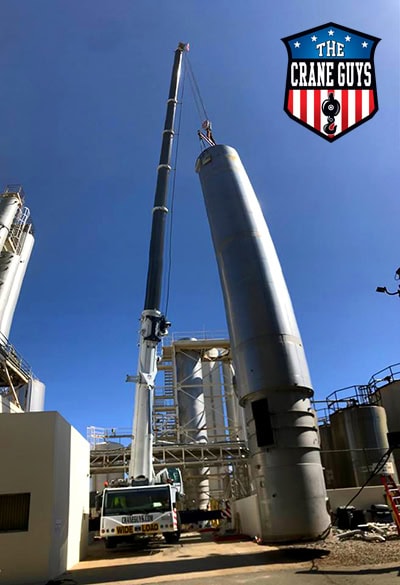 And connect you will. This means every time. Instant contact is guaranteed by our round-the-clock availability. Rain or shine, real people – dedicated people — are here in central command, ready to answer all calls 24/7/365. That's right. Every hour of every day. No answering machines, no recorded, messages, no delays. Just a real person ready to serve.
Book Truck Rental
Naturally, client needs will vary. That's why The Crane Guys offers everything under the sun. Let's say, for instance, you're contemplating boom truck rental. OK, in that case you'll connect with a member of our team and specify your needs. It might be a major project or a small one. It doesn't matter. We cover the gamut.
What happens next may surprise you. Immediately, your point of contact evaluates the scope of your project, assesses probable conditions, and identifies the boom truck or boom trucks that match your needs. No delays, no hassles. Just results on demand. We're that quick. Ask anyone who's ever selected us for service.
When we say we cover everything, we mean it. The Crane Guys understands that needs vary. Therefore, we believe that every boom truck in our inventory must be unfailingly versatile. And are they ever.
HVAC Boom Truck Rental Services
In fact, versatility defines our boom truck fleet to a tee. Let's say you're facing a massive HVAC system that requires servicing or replacement. Consider it done. In record time, The Crane Guys will provide you with the right boom truck for HVAC.
Versatility is matched by strength when we provide boom truck rental services. Our vehicles can hoist loads ranging 3 to 40 tons. And they score equally high in the reach department. Tip heights run the gamut from 100′ – 150′. Now what if you need other types of equipment? We've got it. The Crane Guys supports the performance of its boom trucks with an ample supply of spreader bars, rigging equipment, fixed man baskets, and any other needed components. They're all in our stock.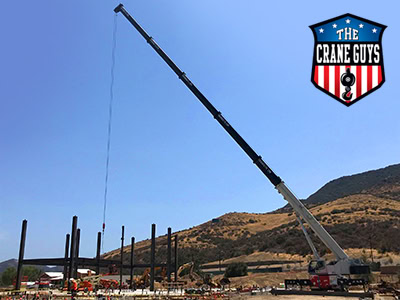 But don't expect the run of the mill. When we provide a boom truck for HVAC or for any other type of project, the vehicle will be in mint condition and ready for action. We regularly service and maintain every vehicle in our fleet, ensuring they perform like champions. After all, the last thing you need is a boom truck that falters on the job. Even the smallest malfunction translates to frustrating delays — and ultimately mounting costs. This simply won't happen with The Crane Guys in your corner. We go the distance to ensure complete reliability of everything we deliver. This is the long-standing hallmark of our acclaimed crane rental service.
Alright, you can count on us for boom truck rental. But what about the big boys in the lineup – the cranes? Sure, there's a lot to deal with in this area. Cranes are, after all, bigger, bulkier, and much more complicated than the average boom truck. Don't cranes naturally pose bigger challenges? Well, relax. You can expect the same level of quality and service from our highly-regarded crane rental program as that provided by our boom truck rental.
Mobile Hydraulic Crane Service
What really helps us deliver in this area is the immensity of our mobile hydraulic crane fleet. Anybody considering us for crane rental soon will discover that we don't fool around when it comes to fleet size. In our inventory are rugged cranes capable of handling a wide range of loads. The Crane Guys' fleet is comprised of everything — from cranes with a lift capacity of 40-tons to those with enough raw power to hoist a staggering 265-tons. We also stock machines that lift everything in between.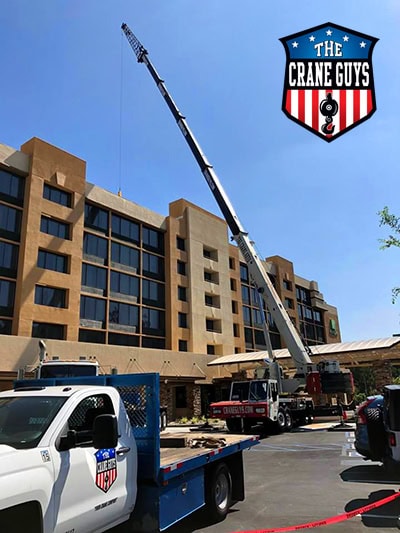 Given this extensive selection, availability is never a problem when you select us for your crane rental needs. And don't forget. Availability also applies to our offering of supplemental solutions and services. All of these are designed to bring out the best in our fleet of cranes. Among the supplemental options we offer is a wide range of top-flight support vehicles and flatbed trucks designed for safe, speedy hauling. When a job is done, we leave nothing behind but satisfied customers.
emergency crane rental services
The Crane Guys understands that you can't always plan for everything, especially in a busy metropolis. Sometimes urgent situations arise … situations that require immediate solutions. If a crane is one of these solutions, The Crane Guys can help in a big way. With years of experience dealing with the unexpected, we offer a sophisticated program of emergency crane rental services. Should you need a mobile crane, boom truck, or any other equipment in a flash, count on us for prompt action. Naturally, we also supply expert emergency crews well-versed in these difficult situations and capable of responding with lightning-quick speed.
Clearly, our mobile crane rental program offers uncommon depth and diversity. Thanks to these qualities, we're able to respond effectively to a wide range of needs, whether planned or unplanned.
Understandably, this level of effectiveness raises pricing concerns. High quality implies high costs, right? Not in The Crane Guys model. Truth be told, we offer both existing and new customers the most competitive rates in Southern California. This claim is backed by The Crane Guys 5% Guarantee – 'we'll beat any written offer from a competitor by 5%.' Simply put, nobody in Socal (maybe the planet) beats our crane rental rates. For accurate rates that fit your project, just give us a call. Then prepare to smile.
So that, in a nutshell, is what The Crane Guys can offer you. Which means you don't need to wonder how to order crane rental service. Simply reach out to The Crane Guys. We'll take care of everything, quickly, efficiently, and affordably.