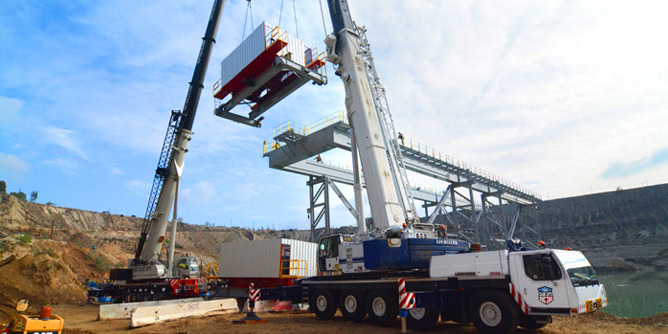 At The Crane Guys, our large crane rental services manage monster loads with startling efficiency. How much can we handle? 3 tons to 265 tons is our current capacity. Not surprisingly, the most muscle-flexing is done by our hydraulic cranes, which routinely handle 40 tons to 265 tons. Don't be surprised to see higher numbers in the future, however. Here at The Crane Guys, we're always reaching higher.
Among our recent large crane challenges is the large crane lift at Pomona College. For that monumental feat, we hoisted an entire rooftop onto a new art building. Not exactly a cottage – the building width exceeded 35,000 feet.
Other challenges met by our large crane rental services include the hoisting of a massive DJ platform at a music festival, towering netting poles on a driving range, and a 140, 000 lb. Airbus 310. All in a day's work.
Our 3D lift plan Expertise, Astounding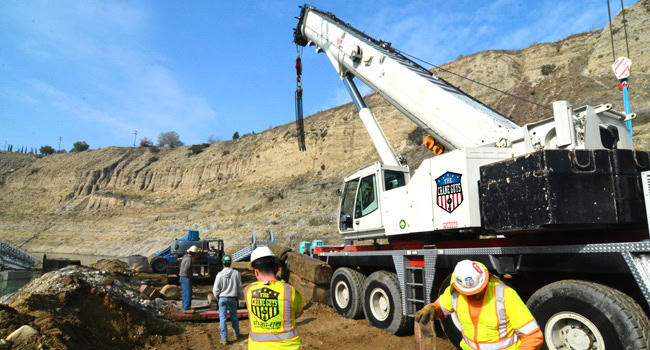 All the lift-muscle in the world means zero without a knowledgeable crew. Which is why only the best is good enough for our large crane rental services. Thoroughly trained, fully certified, and incessantly drilled, our crews take safety and efficiency to highest level. In the process, we minimize the hitches and hassles, thereby saving you precious time and money. But our expertise isn't limited to job sites. Long before the first crane rolls onto the scene, The Crane Guys carries out intensive pre-job preparations. Central to these preparations is a solid 3D lift plan.
Rest assured, all of our 3D lift plan specialists are highly qualified in their field. Moreover, The Crane Guys supports this expertise with the most up-to-date 3D technologies and software. It's a formidable combination, enabling us to create astoundingly realistic views of each and every lift from almost every possible angle.
Our 3D lift plans cover every contingency. Each plan identifies large crane capacity at different boom angles, jib offset, load location, crane location, and lift radius. Equally important, all potential obstructions and hazards are revealed at this stage. The result is efficiency and safety well beyond the ordinary.
If you're facing an extraordinarily massive lift, count on The Crane Guys' large crane rental services to deliver the cranes, equipment, and personnel needed for total success. If you'd like to learn more, call The Crane Guys for additional information and answers to all your questions at (855) 482-7263. You'll discover why we're among the premier large crane rental services in Orange County, Los Angeles, Riverside, and all of Southern California.