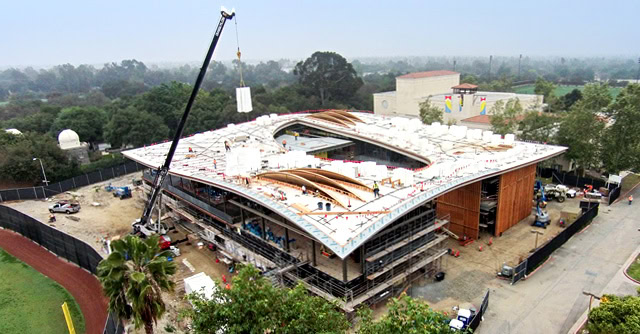 The Crane Guys Give Education a Big Lift
It wasn't the heaviest lift on record. Nevertheless, the project was vitally important to both the educational community and our environment. And it demonstrated The Crane Guys' ability to provide unsurpassed crane rental services for the construction industry.
For this lift project, The Crane Guys were tasked to hoist a special cellular concrete roof tile designed for the new Pomona College Studio Art Hall. Spanning over 35,000 square feet, the contemporary structure consists of multiple studios, student galleries, and an array of Art Department offices. The Art Hall's uniqueness is furthered by its floor-to-ceiling glass walls, which are intended to promote a transparent, collaborative creative environment.
On the Cutting-Edge of Construction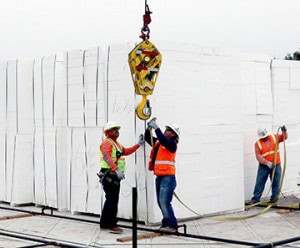 The Pomona College project is an encouraging example of construction's new wave, which emphasizes innovative solutions to create eco-friendly buildings. Consistently on the cutting-edge of construction industry developments, The Crane Guys were a natural choice for handling the roof, one of the building's most important eco-friendly components.
Manufactured by the Cell-Crete Corporation, the roof is composed of cellular concrete. An innovative, super-lightweight material, cellular concrete offers excellent insulation and thereby maximizes energy conservation. In a building the size of the Art Hall, the energy and monetary savings will be considerable.
Thanks to unique construction elements such its cellular concrete roof, the Studio Art Hall earned a prestigious LEED certification as a green building. The Crane Guys is proud of its contribution to this important, eco-friendly endeavor.
ThePomona College project, of course, is only one example of The Crane Guys' ability to deliver top-flight crane rental services for the construction industry. And it appears poised to play an even bigger role in the coming years. Committed to innovation on all levels, The Crane Guys will continue sharpening its skills to keep pace with the latest developments in the construction industry.
Whether you need crane rental services for a construction job or for any other kind of project, you always can count on The Crane Guys. No matter what the size, cost, or schedule, The Crane Guys is your go-to resource for dependable crane rental services for the construction industry in the greater Los Angeles area.