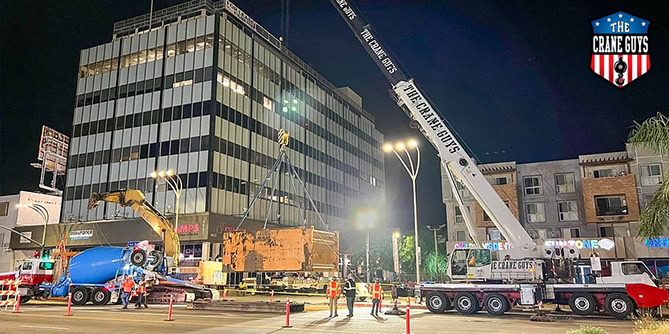 No question about it — if you have a heavy load to lift, you want a dependable yet affordable crane lift specialists. Fortunately, you can have both – and more – when you select The Crane Guys for your crane rental needs.
Call: (855) 482-7263
Our dependability stems from two important assets — unsurpassed skill and in-depth experience. When we take on an assignment, these assets guide our every move, allowing us to make critical decisions with uncommon precision. This holds true whether the decisions are the result of careful planning or unforeseen circumstances demanding lightning quick reflexes and ready adaptability. Either way, The Crane Guys will get it right. Which means, a load in our hands is a load off your shoulders.
Crane Rental Service Los Angeles
As far as affordability goes, our crane rental service covers this base with a special proprietary program. It's called — The Crane Guys 5% Guarantee. As its name implies, the program gives customers a generous 5% discount on all services. In a nutshell, here's how it works. You, the prospective customer, get project quotes from any other mobile crane service. Get all you want. There's no limit. When you've got enough, simply come to us. We'll beat every quote by 5%. Period. That's an iron-clad guarantee. No questions. No hidden exceptions. Just a robust 5% savings right in your wallet.
Now, you might be thinking, with all that cost cutting, they must be cutting something else – namely, corners. Nope. Nothing could be further from the truth. You'll always get the best we can give, along with the best discount in town.
Contact The Crane Guys
When it comes to our best, customer service is a shining example. For The Crane Guys, this means phenomenal service from the moment you make contact. And you will make contact. Call us any time, and somebody will be available to answer. No answering machines, recorded greetings, or clunky music. You'll get a real person, knowledgeable and ready to help. That's 24/7/365 — including holidays. We're always available.
Something else that's always available is the right crane. Our selection of well-maintained machines includes everything under the sun, with a fleet of cranes ranging from 3 to 265-ton rated crane capacities. This means, connect with us, and we'll have what you need.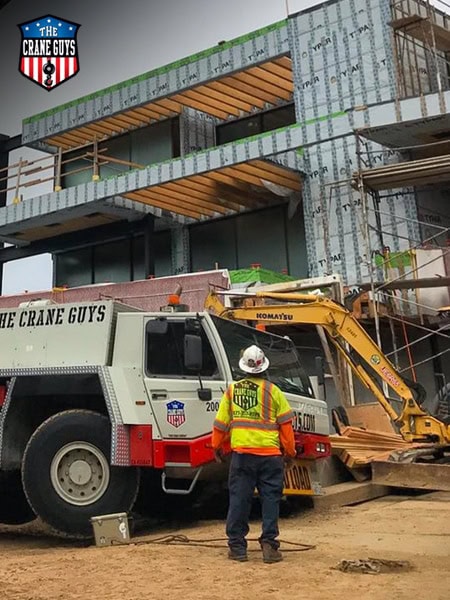 Multi Crane Lifts
Don't worry about special situations requiring an unusual crane. If it's not in our yard, we'll tap into a vast network of providers and locate the right crane in record time. You might even need more than one machine to get the job done. No problem. We've got tons of experience with multi crane lifts. It's all part of our commitment to customer service.
Crane Lift Rigging and Planning
This commitment to customers doesn't stop with cranes. In fact, it's only the beginning. You see, we not only provide the lift; we provide the support services. Like crane lift rigging. And those nimble boom trucks supplied through our boom truck rental program. Need to squeeze into a tight spot? Our boom trucks will put you right where you need to be. Of course, no matter what the project, it's been worked out in advance with thorough meticulous crane lift planning.
How much ground does The Crane Guys cover while providing crane rentals in Southern California? Quite a bit. These are the locations we serve: We offer crane rental in Los Angeles County, crane rental in Orange County, crane rental in Riverside County, crane rental in San Bernardino County and crane rental in Long Beach. Yes, you might say we're a crane lift specialist that's really going places.
---
Contact form
---