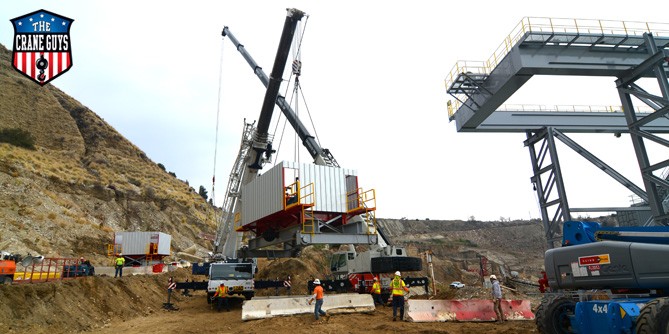 Crane Services for Lifting and setting Modular Buildings
When implementing crane services for lifting and setting modular buildings, a crane rental company faces very special challenges. The Crane Guys is well-acquainted with these challenges, as we've performed more than our fair share of these difficult lifts.
Call: (855) 482-7263
One of the first considerations is the type of structure to be set. A modular building can take many forms, from office buildings and restaurants to private residences and classrooms. Each of these types has its own requirements. How do we determine a lift strategy for each of these very distinct structures? By establishing optimum conditions with a rock-solid 3D lift plan that includes rigging specifications.
Installing Modular Buildings, Tiny Homes, etc.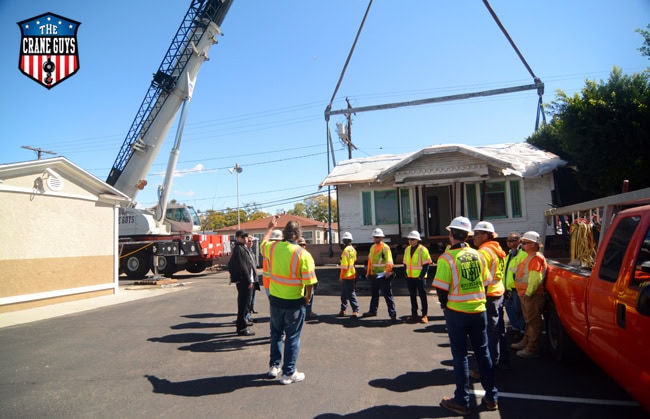 When providing crane services for lifting and setting modular buildings, The Crane Guys invests a considerable amount of time developing and analyzing a 3D lift plan. This detailed blueprint offers a three-dimensional mockup of the project at hand. Through a careful evaluation of this 'preview', we determine every move, every piece of equipment needed to carry out the job.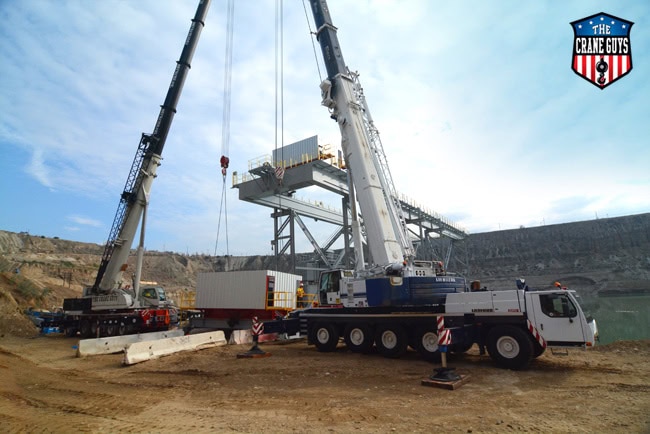 Among the variables we identify is the crane to be used. Obviously, the requirements of a standard-sized home will be noticeably different than those of an office building. No matter what we're lifting, however, the modular load likely will be on the extremely heavy side of the spectrum. Often, one of our 265-ton capacity cranes is called into action for such an assignment. If something stronger is needed, we can handle that, too.
After the 3D lift plan is completed, we're ready to tackle the job. It's important to realize that a modular lift is more than a hoisting operation. It's also an assembly process. When a structure is delivered to a setup site, it's not in its final form – it's in sections known as modules. The Crane Guys' team, therefore, must lift and assemble every structure one module at a time.
To do this, our rigging crew secures each section to a crane via special straps. Once everything is secure, we hoist the attached module, move it to the building site, and set it into a meticulously engineered foundation. When you factor in the weight of each module, which often can be measured in tons, minimizing the potential damage is no easy task. But thanks to our rigorous training, we consistently keep everything as good as new.
Crane Rental
Because of this operation's delicacy, we incorporate a major safety component into our modular building crane services. Here, education and training play a major role. When we provide crane rental services for installing modular buildings, we deploy the industry's most rigorously trained, safety-conscious personnel. Once our 'students' pass our specialized program, they are qualified by the highest, most prestigious certifications. This includes the all-important OSHA certification.
Along with safety and performance considerations, our program of modular building installation focuses on your budgetary needs. We do this in two ways. First, we always have an actual person ready to take your call and set the project in motion. Consequently, you'll never face costly scheduling issues. Second, we offer the well-known Crane Guys 5% guarantee – we'll beat any written offer from a competitor by 5%. Combine all these advantages, and you have a great reason to select The Crane Guys when you require premier crane services for lifting and setting modular buildings.
---
Contact form
---