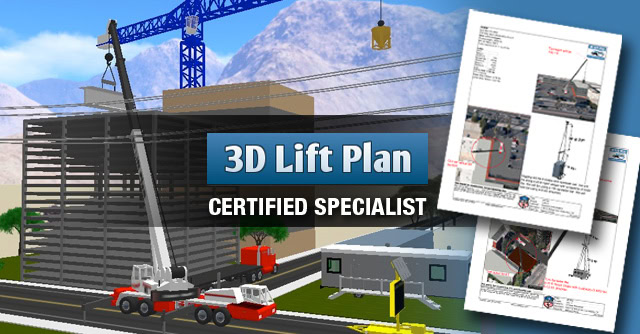 We are 3D Lift Plan Specialists!
As always, The Crane Guys' dedication to safety means implementing all the necessary requirements of the advancing crane rental industry like 3D lift plans to ensure only the best for our clients. With safety, efficiency and value in mind, we proudly set the industry standard and provide outstanding service from our 3D lift plan specialists.
Call: (855) 482-7263
3D lift plans provide highly accurate 3D graphics allowing us to build a realistic view of the lift from any angle. We include information such as the crane's capacity at different boom angles, jib offset, load location, crane location and lift radius. We also identify and add possible obstructions and/or job hazards to the 3D lift plan. This makes for highly comprehensive engineer scale lift plan viewable and printable from any angle.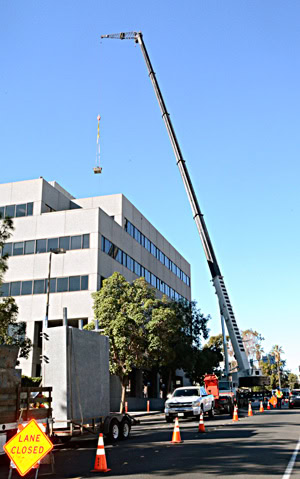 When you need a lift plan done well and rapidly, The Crane Guys are the ones to call for crane rental service. Unlike the majority of crane rental companies which typically require between 48-72 hours to complete a 3D lift plan, The Crane Guys guarantee a 12-hour turn-around for a 3D lift plan on your job. Regardless of the time of day you call, we go the extra mile to ensure your 3D lift plan is available within twelve hours of your submitted specifications.
Like every aspect of The Crane Guys, only the most qualified professionals and specialist are employed in order to assure the best job is done for our clients. Our 3D lift plan specialists exemplify our standard for service and professionalism. All of our specialists are certified and have extensive knowledge with 3D lift plans. Also, over 50 percent of our jobs require lift plans, giving our specialists increased experience and insight to best serve each of our clients needs.
While 3D lift plans are becoming more common, the crane industry is becoming a safer place. Our crane operators now have visual lift plans with a heightened sense of communication and awareness of potential job hazards. In addition, our operators are knowledgeable with reading the 3D lift plans, helping to increase safety, efficiency and operator accountability with every lift. The detailed lift plans allow our customers to know exactly what to expect while ensuring a safe and efficient job every time.
About 3D Lift Plan

3D Lift Plan is a lift planning and crane selection application. You provide the weight and dimensions of the object you are lifting and the location and size of any obstructions on the jobsite. 3D Lift Plan will search the load charts for all your cranes to find the most economical crane configurations for the lift. You can also simulate the entire lift in 3D Lift Plan to save time and increase efficiency on the jobsite. Our database of over 900 cranes contains accurate crane dimensions and load charts. We also provide hundreds of custom 3D objects, enabling you to deliver a realistic rendering of your lift plan to the customer 3D Lift Plan is a standalone application. No additional CAD program is required.
---
Contact form
---