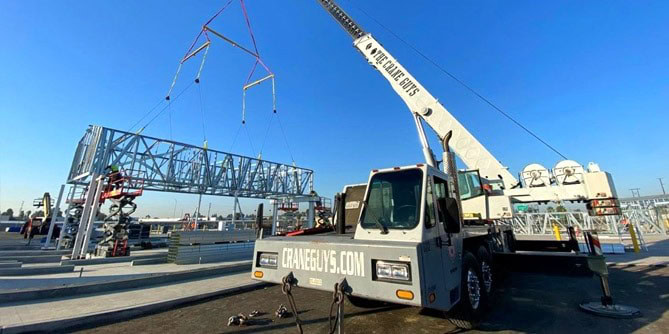 Crane Companies for Construction
Construction projects are on the rise, and that means many areas will experience a growing need for mobile crane companies for construction. The Crane Guys definitely qualifies as one of these companies. We have been servicing Southern California for many years, accumulating considerable knowledge of this vast region. We know the conditions and the layout, so we can anticipate needs well in advance. Don't underestimate such an ability. This type of foresight helps us prepare for the unexpected, which in turn eliminates costly surprises. Such unexpected turns of events have been known to stretch budgets to the breaking point. The Crane Guys minimizes the chances of this happening, a fact always welcome by clients.
Call Now: (855) 482-7263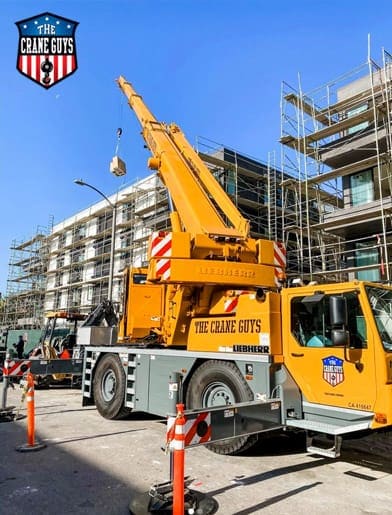 As one of California's premier crane companies for construction, we consistently provide top-tier service to the golden state. For us, service consists of many working parts, like a well-tuned machine. First and foremost, is the lineup of cranes clients can choose from. Our inventory runs the gamut, from 3-ton rated machines to 256-ton rated super-lifters. And there's plenty to go around. Therefore, when you call on us for a crane solution, we'll have what you're looking for on the spot. In the rare instance that you give us a unique request, we can get what you need through an extensive network of contacts we've developed through the years. This on-demand capability has made us one of the distinguished crane rental services in California.
Crane Rental
Crane rental, however, is more that supplying lifting machines for construction projects. In many cases, it also means supplying expert personnel to complement the hardware. After all, cranes don't run by themselves. Because skilled personnel are so vital, we've developed a comprehensive program of operated crane rental. Thanks to this program, you're assured completely reliable services. You'll get crane operators and rigging personnel who know their stuff, backwards and forwards. This knowledge is the result of three factors — natural aptitude for the job, extensive experience, and thorough training through our specially designed training program. Through this educational course, students earn the industry's highest certifications, including the prestigious OSHA certificate. Duly qualified, graduates are prepared not only to get the job done, but to get it done while maintaining the highest safety standards.
Crane Service
Offering clients these advantages is enough to put us in the running for best crane service. The Crane Guys, however, does even more. When you've got a pending construction project, time is of the essence. Schedules must be met, and delays, avoided. So, we get things rolling right off the bat. You see, when you call The Crane Guys, an actual person answers the phone — no recorded greetings asking you to leave a message. No long hold times, either. Just a friendly rep ready to serve. You're off and running instantly. Now that's the kind of crane company everyone wants for a partner. And we've got the clients to prove it.
OK, we're one of the premier crane companies for construction. But are we conveniently close to you? You bet we are. We're one of the first-rate crane companies for construction in Los Angeles County, crane companies for construction in Orange County, California, crane companies for Construction in Riverside County, crane companies for construction in San Bernardino County and crane companies for construction in Long Beach California. Basically, wherever you are.
---
Contact form
---