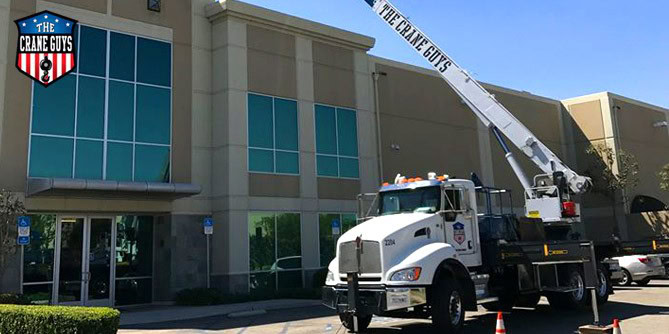 Searching for Bucket Truck Rental Near Me? Call The Crane Guys
Seeking bucket truck rental near me? Call The Crane Guys. You'll get exactly what you need in record time. Our inventory consists of an extensive selection of bucket trucks, or boom trucks as they're generally called. No matter what name they go by, however, there's only one way to describe them when dealing with The Crane Guys. That is this: they're the best boom truck solutions in Southern California. That's not surprising. We've worked long and hard to build up an extensive fleet worthy of our boom truck rental program.
Toll Free: (855) 482-7263
Thanks to this effort, availability is never a problem. When you select us for boom truck crane rental, we'll ensure a vehicle is ready to go and primed for action. We're even prepared to accommodate the most extreme jobs. There are vehicles in our fleet equipped with cranes having a lift capacity ranging from 3-40 tons. You just won't see us come up empty.
Boom Truck Rental
We think of boom truck rental as the perfect complement to our crane rental program. In fact, many projects require both types of vehicles to get the job done. While hydraulic cranes are busy doing the heavy lifting, boom trucks are occupied tackling specialized duties. These are the tasks generally requiring access to tight or otherwise restricted spaces. Thanks to their agility and maneuverability, bucket trucks can thread into these ultra-tough spots. This capability enables them to be in the perfect spot, where they're positioned to lift crews to specific areas. Many places would be unreachable without these nimble vehicles.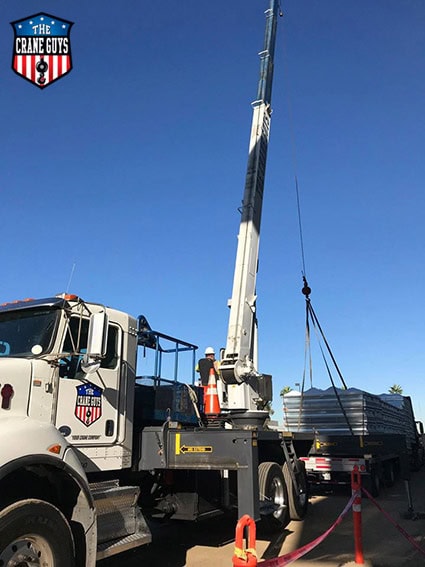 Maneuvering into tight spaces is only part one of a boom truck's important job. Once docked in position, a boom truck must lift its crew to a specific work area. It does so by utilizing a metal arm called a boom. Connected to the boom is a large bucket, which carries assigned crew members to their work destination. Hence, the name 'bucket truck'.
AC and HVAC Installation
Maybe the job at hand is an AC installation. In that case, the work area could be a high rooftop, where the cooling units often are installed. Given a boom truck's maneuverability and reach capabilities, it's no wonder we frequently use these vehicles for HVAC installation. Their capabilities also make them the logical choice when crews must access high telephone poles – those that are still in use, anyway.
What about protective measures? Have we done our part? Absolutely. The company's boom truck rental program incorporates exceptionally high safety standards. People, property, and even pets are protected by the rigorous safety protocols we've adopted. For The Crane Guys, its always safety first, a guiding principle consistently reflected in our boom truck solutions.
As with our boom trucks, flexibility is among the hallmarks of our customer service program. Call on us for a vehicle, and we'll accommodate your every need. Want it delivered yesterday? No problem. We tailor our solutions to your schedule.
Southern California Boom Truck Rental
How about service areas? Are we near your locality? Probably. We offer Los Angeles boom truck rental, Orange County boom truck rental, Riverside County boom truck rental, and San Bernardino boom truck rental. So there's no excuse. If you're somebody who's searching for bucket truck rental near me … Call The Crane Guys. It's that simple.
---
Contact form
---