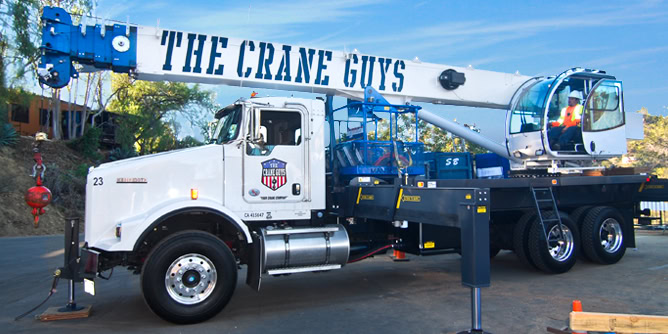 The Crane Guys are the premier boom truck rental company serving Southern California. With a two hour minimum, that makes us the most cost efficient and our advanced safety protocals make us the safest. Contact The Crane Guys at (855) 482-7263 for boom truck rental quotes.
Boom truck rental is a service required for any number of situations. Whether your crew is headed to a rooftop or to the uppermost regions of a telephone pole, the long arm of a boom truck provides the needed lift. At The Crane Guys, however, boom truck rental is much more than supplying sturdy vehicles. It's also about responsive service, ultimate convenience, competitive pricing, and vast selection.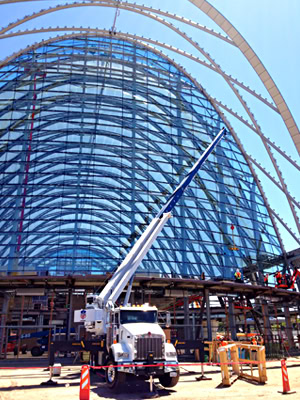 When you contact The Crane Guys for boom truck rental, responsiveness immediately becomes our top priority. Our team is fine-tuned to react quickly and efficiently. No messing around with irrelevant details or pointless questions. Our goal is to get it there yesterday.
But at The Crane Guys, responsiveness is only the beginning. We also strive to provide clients with unsurpassed convenience. What good is a top-flight boom truck if you're jumping hurdles to get it? Never happen here. When you request boom truck assistance from The Crane Guys, our team jumps to accommodate your precise requirements and timetable. Moreover, you'll never wait a single second for a call-back. We staff our control center with a team of live personnel ready to respond to your every need. And we're available 24/7/365. Your wait time – 0.
Speaking of availability, our extensive selection of boom trucks virtually guarantees you'll have what you need, when you need it. But The Crane Guys' fleet is not limited to ordinary boom trucks. Our selection also includes a ready supply of boom truck cranes with a lift capacity ranging from 3-40 tons. Should you need a boom truck with fixed two-man baskets, we've got those, too. Yeah, The Crane Guys rarely comes up short.
Now, it's only natural to expect premium boom truck rental services to include premium prices. Not in our zone. We have the most competitive pricing on the planet. And to prove it, The Crane Guys offers a 5% guarantee – we'll beat any written offer from a competitor by 5%. Any day, any time. Try us.
Of course, there are certain minimums involved with boom truck rental. Here's the breakdown for boom truck cranes:
3 Ton Boom Truck………………… 2 Hour Minimum
5 Ton Boom Truck………………… 2 Hour minimum
22 Ton Boom Truck………………. 3 Hour Minimum
40 Ton Boom Truck………………. 4 Hour Minimum
OK, we cover the lifting of ordinary humans. But what about heavier cargo? No problem. For massive loads, we support our boom truck rental services with an extensive fleet of hydraulic cranes. These monsters have a lift capacity ranging from 25-265 tons. And they never need lunch breaks.
If you'd like to learn more about our boom truck rental services, please contact The Crane Guys for additional information and answers to all your questions. You'll discover why we set the standard for a wide range of crane rental services in Orange County, Los Angeles, Riverside, and all of Southern California.