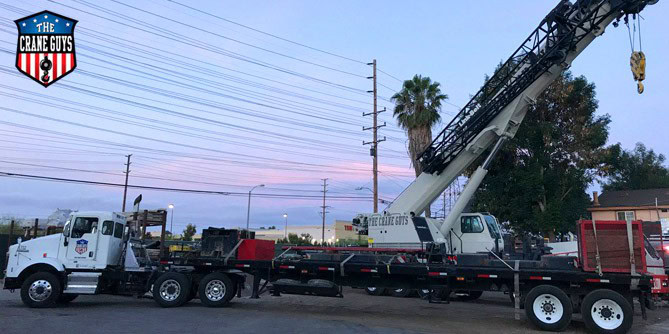 Wouldn't it be great if you could rely on a crane rental service to provide a little bit extra? Well, here at The Crane Guys we go way beyond that point. You see, we're a full service crane rental company, and always have been. This means we don't limit ourselves to lifting massive cargo. Instead, we extend our talents, offering a broad spectrum of solutions for a variety of needs. That offering includes flatbed trailer rental. This is by far the ideal service for hauling oversize loads from one location to another. The kind of loads you just can't, well, toss into a pickup truck and hope for the best.
Call Now: (855) 482-7263
With The Crane Guys as you partner, you'll discover flatbed truck rental is an absolute breeze. We make it easy from the get by ensuring complete availability of everything you need. That assurance includes instant service the moment you reach out to us. Here's how that works: Give us a call, and you'll be greeted by an actual person stationed in our service center. No annoying pre recorded greetings, repetitive music soundtracks while you wait on hold, or worse of all, the dreaded invitation to leave a message. Just what you need when you're facing a tight schedule. Not at The Crane Guys. We'll promptly answer your call and have you set up with a flatbed truck in record time. Just as we do with all of our other services.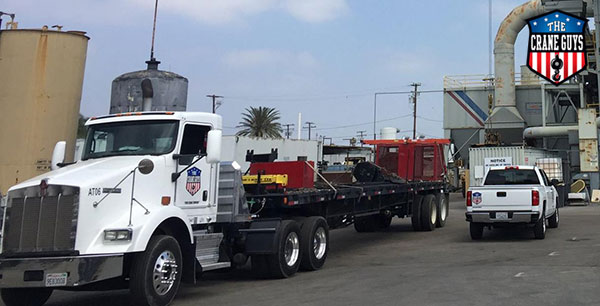 Large Flatbed Truck Rental Services
What types of oversize loads might we haul with a flatbed? The list is extensive. Utilizing these vehicles, The Crane Guys team transports industrial equipment, machines, construction supplies, modular homes, and just about any other cargo too wide or bulky for conventional hauling vehicles. Given this assortment of cargos, you'd expect our flatbed truck rentals to be equally diverse. And you'd be right. We offer 12 foot, 20 foot, 26 foot, 30 foot, 40 foot, 48 foot, and 65 foot flatbed trucks to service a variety of situations.
Of course, to assist with all flatbed transportation, we provide qualified riggers, signal people, and other personnel. As you might expect with The Crane Guys, they've all been trained to meet the highest safety standards.
Crane Rental & Boom Truck Rental Services
In many cases, our flatbed trailer rental services involve more than the deployment of these heavy duty trucks. Often , a hauling project will require a certain amount of heavy lifting. For these occasions, The Crane Guys provides acclaimed crane rental services and boom truck rental. As with flatbed solutions, we have an extensive inventory of cranes and boom trucks suitable for a wide range of loads and situations. Equally important, we have a fine selection of qualified operators to ensure all jobs are done correctly and safely. When it comes to operated equipment rental, you can count on us every time for the right solution.
You might be asking, where can I find such a reliable crane service near me when I need flatbed trailer rental? The answer, if you're in Southern California, is virtually right around the corner. The Crane Guys offer flatbed truck rental in Los Angeles County, flatbed truck rental in Orange County, flatbed truck rental in Riverside County, and flatbed truck rental in San Bernardino County. It doesn't get any closer than that.
---
Contact form
---