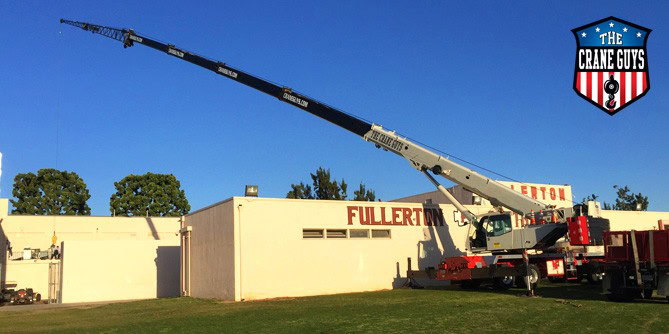 Construction Support Crane Services
For construction project managers, success hinges on achieving a balance — expert personnel and advanced technology working in sync. The Crane Guys strikes this important balance with a formidable fleet of construction support cranes. When our vehicles arrive for duty, you can bet they'll be the most sophisticated and expertly operated machines anywhere. Their on-the-job record is stellar, a distinction that's made us one of the premier crane rental services in Los Angeles.
Toll-Free: (855) 482-7263
Our construction support cranes cover a wide range of needs, with a breadth of lift capacities handled by our fleet of 3-ton to 265-ton cranes. Consider, for instance, the problem of tight spaces. When mobility is required in these restricted areas, The Crane Guys delivers with responsive boom truck rental services. Guided by expert, certified personnel, our boom trucks maneuver through tight spaces with maximum efficiency. Compact but mighty, these vehicles lift massive loads with unbelievable ease. They also reach great heights with onboard loading buckets that carry crew members to critical, difficult-access zones. As a result, we finish the job faster and better. And that means less drain on your budget.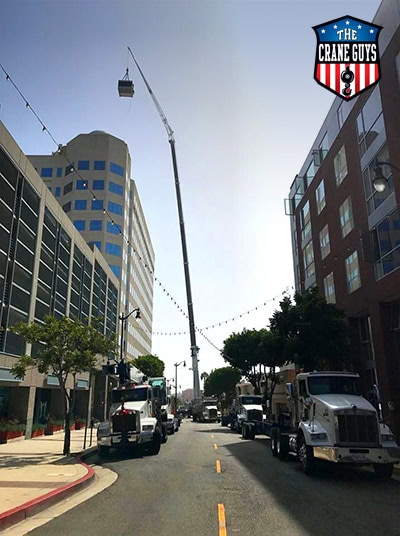 Large Fleet of Diverse Cranes Available Now
The lift capacity of our boom trucks covers everything from 3 to 40 tons, with tip-heights ranging from 100′ – 150′. Should there be a need for spreader bars, specialty rigging equipment, fixed man baskets, or other options, we'll have those ready, as well.
On the heavier end of the spectrum, The Crane Guys offers large hydraulic crane rental for massive lifts. Lift capacity for our hydro-cranes ranges from 40-tons to 265-tons.
Adding strength to our lineup of support cranes is a variety of optional solutions and services, all available as needed. These include support vehicles, flatbed truck hauling services, and multi-crane lifts.
Crane Lift Planning & Permitting
While our on-site record speaks for itself, there's a hidden side to our mobile crane service. Deep in headquarters, our strategists throw themselves full bore into the task of crane lift planning. During this stage, every move, on-site condition, geographical feature, potential hazard, and all other critical variables are evaluated and incorporated to create a master plan. The process embodies the perfect blend of human expertise and the technological sophistication of specialized 3D lift plan software. The application enables our planners to create a vivid, 3-dimensional rendering of the project areas, complete with all crane and vehicle movements.
For your convenience, The Crane Guys works with your schedule and is available now to service all your crane lifting needs. And when we say 'now', we mean it. We're on call 24/7 – 365 days a year! No recorded messages; no waiting.
Do you require a solid fleet of construction support cranes for an upcoming project? The Crane Guys is available now to assist you – always at your convenience. Reach out to us any time, 24/7/365. We'll be happy to provide additional information and answers to all your questions.