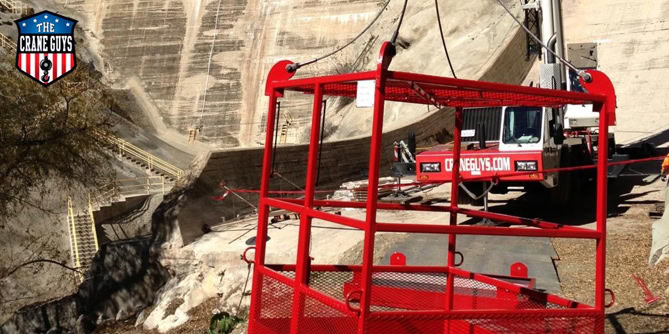 Suspended Platform Rental
It's not uncommon for workers to perform their duties in high or otherwise hard to reach places. Sometimes a ladder will suffice to provide access. However, many times this solution isn't practical for a variety of reasons. In these cases, a suspended platform often is necessary to bring crews to their intended destinations. When this situation arises, The Crane Guys offers an exceptional program of suspended platform and crane rental. As with all our other services, this program is backed by the experience and expertise of our highly trained crews.
Call: (855) 482-7263
Our suspended platform rental solutions cover a wide range of needs. One of the most common of these needs is cell tower servicing. For these jobs, crews ride to their destinations aboard a suspended platform (aka crane personnel platform), with our team and equipment providing the lift. But it's not just a matter of hoisting crews to a particular location. The personnel basket must be precision guided into position so that they come to a stop in a specific work area. To say that this operation requires consummate skill would be an understatement. It takes years of training to pull this off successfully.
Suspended Platform and Crane Rental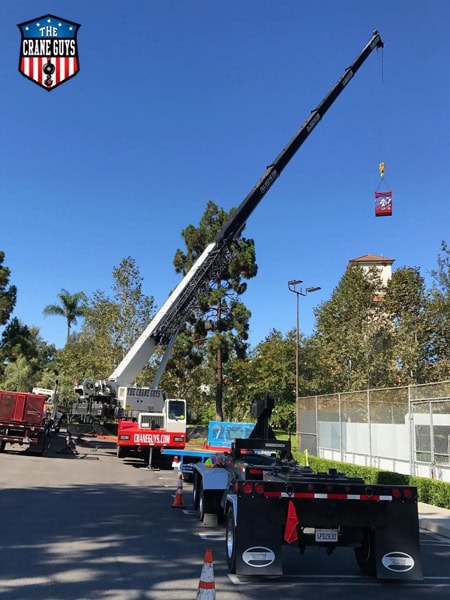 You might be wondering how many workers can fit into one of these baskets. Fortunately, our suspended platform capacity can accommodate a variety of passenger loads. Depending on the job at hand, we're able to fit 2, 4, or 6 workers comfortably on a crane personnel basket. And we offer an equally impressive range when it comes to how far we can take a crew. Thanks to a combination of training and equipment, The Crane Guys can reach a variety of distances. On the low end, we can carry crews thirty feet above the ground. When they must go much further, we have the capability to lift workers as high as 327 feet into the air.
Crane Rental Service
Of course, a crane personnel basket doesn't automatically become airborne. Some piece of machinery must carry the platform to its destination. That machinery is any one of the many cranes in our inventory. Don't worry about getting the right crane exactly when you need it. Our crane rental service offers an extensive selection of cranes primed and ready for action. Each machine is meticulously maintained by our team of mechanics and technicians, ensuring consistently smooth operation and unfailing reliability on the job. Basically, clients have nothing to worry about.
Another reason clients can be worry free about our crane rental program is the cost of service. Which, we're proud to say, is guaranteed to be the lowest in Southern California. That's because we offer clients the immensely popular Crane Guys 5% guarantee. This is it in a nutshell – you get price quotes from any of our competitors. Grab as many quotes as time permits. Then return to us with the prices. Whatever the numbers are, we'll beat them by 5% — guaranteed. No ifs, ands, or buts. 5% will be your savings when you choose our crane rental service.
It's clear then, that you can't do better than The Crane Guys when you require a provider of suspended platform rental solutions. An important part of our crane rental service, these solutions are reliable, affordable, and readily available. Who could ask for anything more? We offer crane rental in Los Angeles County, crane rental in Orange County, crane rental in Riverside County, and crane rental in San Bernardino County.
---
Contact form
---