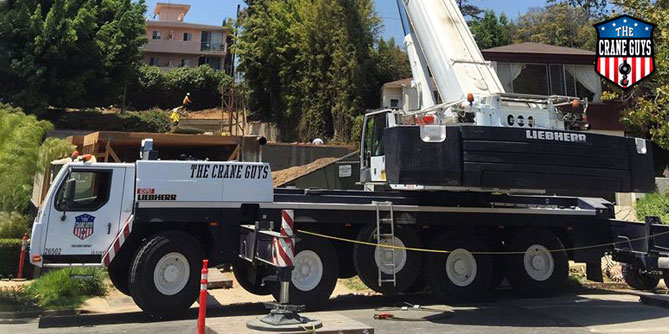 Residential Crane Services
When people think of a crane service, they typically imagine huge machines lifting massive loads for some type of industrial project. But hauling loads also can be important for the completion of various residential projects. When the need arises in this area, The Crane Guys can handle it superbly with its acclaimed residential crane services. Whether a project involves the building of a whole new house from scratch or the transport of heavy loads to an existing property site, we've got the resources for the job. Rest assured, our crane rental program offers the ideal solution, whatever the need.
Call Now: (855) 482-7263
One hallmark of our residential crane services is dependability. You can count on us in so many ways. For instance, there's responsiveness. The Crane Guys is ready to respond to every need because we're here to answer you calls 24/7/365. Reach out to us for crane rental service, and you'll get an actual person – not a frustrating prerecorded greeting that instructs you to leave a message – or worse, an excruciating music track that precedes instructions to leave a message. The ultimate benefit of this readiness is, of course, the complete elimination of costly delays. Just tell our consultants the nature of your project, and we'll get the ball rolling right on the spot.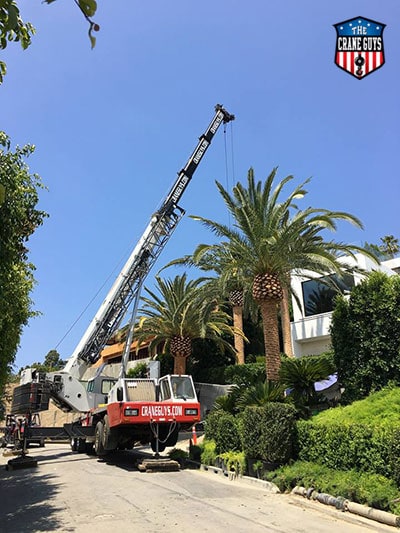 This is extraordinarily good news for anyone requiring residential construction crane service. True, this can be a complex area with many moving parts. Nevertheless, The Crane Guys is fully prepared for the challenge, ready to transport, lift, and move whatever must be set in place.
HVAC Crane Rental
Contractors may, for instance, be installing a muscle-soothing Jacuzzi in a property's backyard. No problem. We'll set the tub and all its accessories firmly in place with a precision Jacuzzi hoist. Emphasis will be on care and safety at all times. You can count on that. The same holds true when a residence is being beautifully furnished. We offer furniture hoist services that are second to none. And don't even get us started on our HVAC hoist solutions. Our success stories in this department would last for weeks.
Not all our residential crane services focus on the indoor world. Sometimes, we deal with external matters, such as landscaping. As is usual for The Crane Guys, we're ready with the right solution. We offer dependable tree installations as well as expert roofing contractor assistance with comprehensive rooftop crane service.
Boom Truck Rental
It's important to note that residential crane services aren't limited to basic hydraulic crane rental. Many support services often come in to play during a home building or remodeling project. For example, a certain job might require a boom truck for access to tight spaces. Again, The Crane Guys is prepared to serve with its gold standard boom truck rental program.
Remember, residential projects often require moving heavy items from one place to another. We've got it covered. The Crane Guys can provide a crane for moving whatever you've got, as well complete rigging and hauling services to guarantee success.
Put all this together, and you've got residential crane services you'll be very comfortable with. In fact, you might say you'll feel right at home with The Crane Guys.
---
Contact form
---