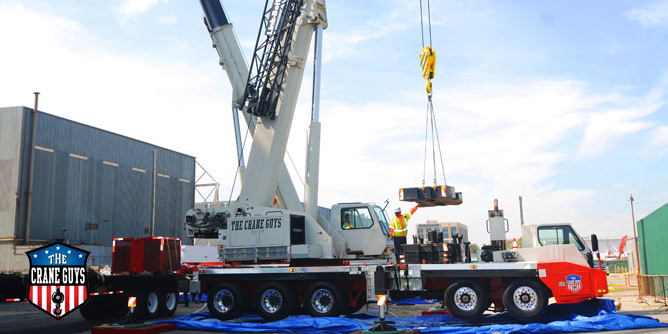 Crane, Rigging, and Flatbed Trucking Services
Crane, rigging, and trucking services may seem like separate areas of expertise. But for The Crane Guys, these services are inextricably connected. On any given project, each of these supports the other like members of a champion team.
Don't worry if your project is monster challenge. The Crane Guys has YOUR crane, whether needed for industrial or commercial purposes. If it's not in our fleet, we'll get it for you. Not that we're likely to go that route. Our extensive crane fleet of cranes includes everything from 3-ton to 40-ton boom trucks, as well as 25-ton to 265-ton hydraulic cranes.
Availability is something else you needn't worry about. The Crane Guys is truly full-service, with everything in our extensive fleet available 24/7, 365 days a year. Call us at (855) 482-7263 for expert crane rental, rigging, flatbed trucking services and rapid-response personnel.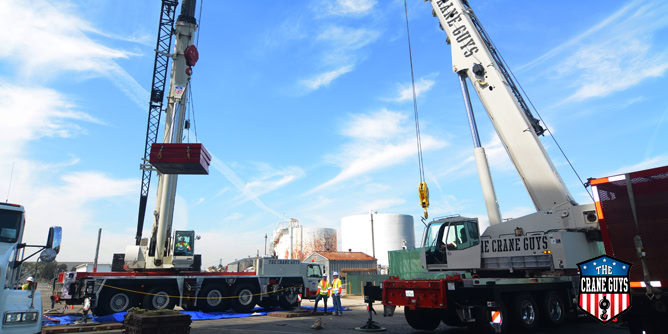 Of course, no crane could operate without qualified riggers to set things in motion. For The Crane Guys, rigging is both an art and a science – a discipline requiring a blend of precise calculations and keen intuition. Countless variables are evaluated before our riggers choose the slings, spreader bars, pulleys, and all other gear crucial to safe, efficient lifts. Once chosen, all gear must be coordinated with the mass and weight of each lift load. Are we ready for the challenge? Every time.
For clients with specific trucking needs, The Crane Guys again has the bases covered. Both our trailer truck rentals and flatbed truck rentals provide excellent support to all of our crane services. Always ready to go the extra mile, we offer flatbed shipments, local and long distance deliveries, drop decks, and lowboy trailers for oversized cargo and heavy equipment.
Along with expertise, the one thing our crane, rigging, and trucking services have in common is safety excellence. Our commitment to safety is clearly exemplified by the preparedness of our crews. Each member of our team has been qualified through a rigorous training regimen, earning credentials and certification from NCCCO, MSHA, TWIC, and many other prestigious organizations.
With safety working hand in hand with expertise, there can be only one result — unparalleled efficiency in all of our crane, rigging, and trucking services. It's an efficiency that invariably saves time and money for our customers.
If you'd like to learn more about our acclaimed crane, rigging, and trucking services, please contact The Crane Guys for additional information and answers to all your questions. You'll discover why we set the standard for a wide range of crane rental services in Orange County, Los Angeles, Riverside, and all of Southern California.