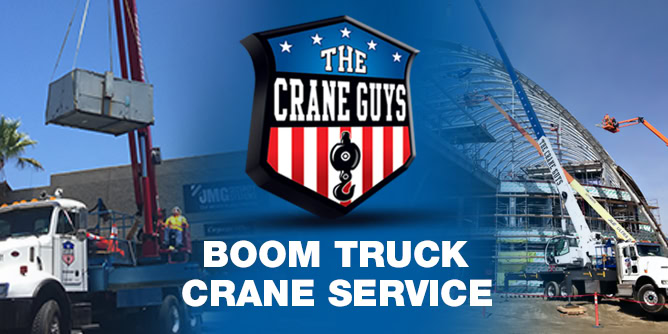 Boom Truck Crane Services
When people think of crane rental services, they generally envision brawny cranes lifting massive loads. But let's not forget the boom trucks. These can make a big difference, particularly on HVAC projects. Taking this into account, The Crane Guys has made HVAC boom truck rental a major offering in its service lineup.
Versatility is the hallmark of our HVAC boom truck crane rental services, guaranteeing the right vehicle for every job. The Crane Guys' fleet covers everything from 3-ton to 40-ton lifts, with a 100′ – 150′ range for tip height. We also offer an incredibly extensive selection of spreader bars, specialty rigging equipment, and when required, fixed man baskets.
Toll Free: (855) 482-7263
Safety and efficiency, two other hallmarks of The Crane Guys, are assured by the resident team of NCCCO-certified boom truck personnel and signal persons. To remain at the top of their game, these dedicated experts periodically upgrade their knowledge by taking the latest certification courses.
Of course, HVAC boom truck rental services isn't just about hardware and crews. It's also about the people we help. And in order to make certain we help them on every possible level, The Crane Guys backs its boom truck rental program with unsurpassed customer service. Rest assured, we go the distance to ensure every single customer receives first-rate service on every single project.
This commitment to customer service extends to our availability. Is your HVAC project basic? Extraordinarily complex? Somewhere in the middle? Whatever describes your situation, you can count on The Crane Guys to have exactly what you need 24/7/365 – holidays included. You might call us the crane rental company that never sleeps.
Alright, we know how to kick off a project. But what about bringing it to a satisfying close? On that end, we're sticklers for completeness. Accordingly, The Crane Guys doesn't consider a job finished until every last scrap of discarded equipment is properly disposed of. We're sure you feel the same way. So to wrap things up to everyone's satisfaction, we offer complimentary disposal and hauling away of all old HVAC equipment. That's right. We make it disappear at absolutely no charge to our customers. Thorough, you bet. But that's what makes The Crane Guys the best crane rental company.
If you'd like to learn more about our acclaimed HVAC boom truck rental services, please contact The Crane Guys for additional information and answers to all your questions. You'll discover why we set the standard for a full range of crane rental services in Orange County, Los Angeles, Riverside, San Bernardino and all of Southern California.