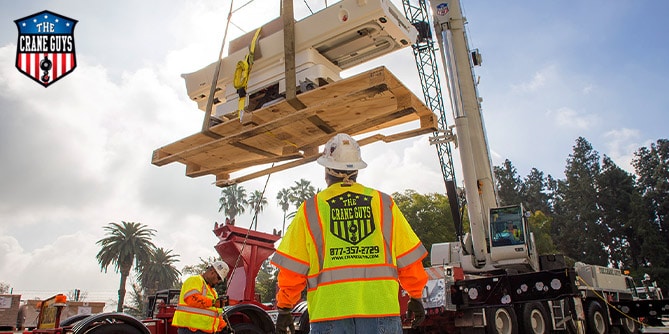 Crane Rigging and Lifting Services
What gets the attention when someone mentions crane rigging and lifting services? As you might have guessed, the big attention-getter is the crane. It's easy to see why this grabs the limelight. The sheer size of cranes automatically puts them front and center. Now add to this the fact that they're the ones getting all the action. All in all, when you've all this going for you, it's pretty hard to go unnoticed.
Call: (855) 482-7263
But at The Crane Guys, we know the real story — rigging and lifting are equally important. Think about it. Without rigging and a superbly-trained crew to go with it, loads couldn't be lifted – period. It doesn't matter how muscular the crane is. Cargo remains grounded until securely connected to the lifting machine. And that, in a nutshell, is the primary purpose of rigging.
Sounds easy? It isn't. Connecting the jumble of gear is a monumental challenge – something that would keep ordinary people up at night. Not The Crane Guys' ace crane rigging crews. They're trained to the hilt and can size up any situation to maximize safety.
One of their biggest concerns is stability. It should be. Unless properly secured, big loads tend to swing back and forth. Not the best situation for nearby people and property. No worries with our crews on the job. We make sure every load is secure and balanced, even the oddly shaped ones. Yeah, we see a whole lot of those oddballs. But with in-depth calculating and precision implementation, we consistently find the balance.
Multi Crane Lift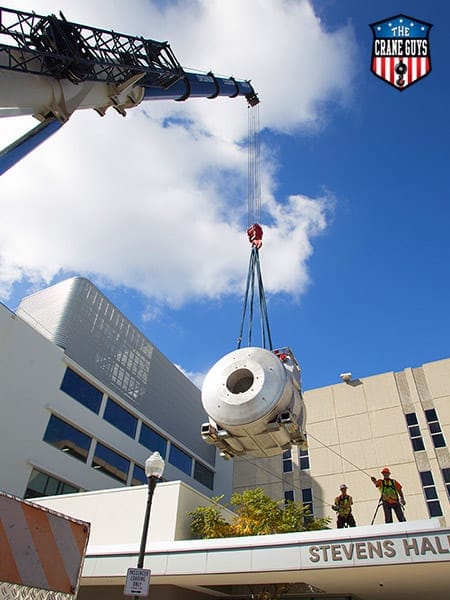 Our crane rigging crews even perform this balancing act with one of our biggest challenges — the multi crane lift. Periodically, we get one of these jobs. And if you think rigging for one crane is a monster task, try doing it with multiple machines. All part of the comprehensive services of a top-flight crane rental company like The Crane Guys.
Not surprisingly, our comprehensive mobile crane service includes an ample supply of supporting solutions. One of the most relied-upon is our program of boom truck rental. While the big machines do the heavy lifting, our nimble boom trucks maneuver their way through the tightest spots. Great combination.
You might be wondering about the cost. Entirely understandable. Not something you should be concerned about with The Crane Guys in your corner. That's because, by nature, we're very cost-conscious people. We're also very understanding. So we've developed a handy little price-cutting measure called The Crane Guys 5% guarantee. This is our solid promise that we'll beat any quoted price from a competitor by 5% — if not more. Don't believe this? OK. Shop around and see. You'll soon be a money-saving believer.
Isn't it great to know The Crane Guys has you covered, no matter what's needed? Whether your project calls for large hydraulic crane services or a responsive program of boom truck rental, you can count on our acclaimed crane lifting and rigging services to get the job done. And get it done at the best possible price. What more could you ask of a crane rental company?
---
Contact form
---