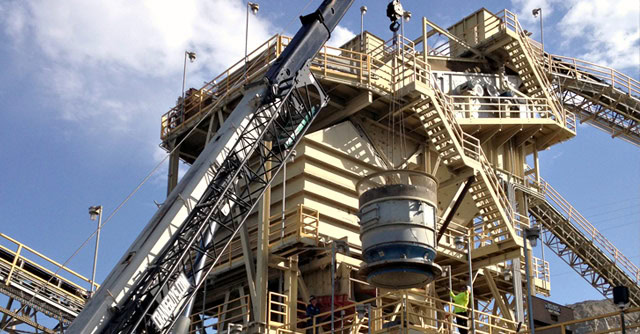 The Rock Stars of Crane Rental Service
Not many companies can be called "The rock stars of crane rental service." The Crane Guys, however, definitely qualify.
The honor came about thanks to one of the company's ongoing customers – a rock plant.  The plant's business is breaking down rocks and converting the results into sellable material, primarily for concrete production. The Crane Guys often get the call to service the Los Angeles facility's heavy-duty machinery.
Their latest assignment, however, demanded a bit more muscle. The Crane Guys were needed to lift one of the plant's 40, 000 lb "crushers" and set it safely on the ground. As the name implies, crushers literally are rock-breaking machines.
Once the equipment was safely grounded, the rock plant crew was ready to take it apart, change out its liners, and re-assemble. The Crane guys would complete the operation by lifting the re-assembled crusher back into place.
But there was a catch – the clock would be ticking…fast. During servicing, a crusher's rock production is zero. Downtime is money lost. So speed is critical. Fortunately, The Crane Guys delivered with flawless precision. The crusher was hard at work in record time. Of course, this is nothing new — The Crane Guys' operators and riggers frequently are on-site at the rock plant and are thoroughly familiar with the process.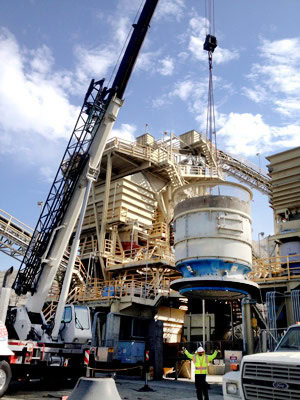 The Crane Guys has always provided what the rock plant needs. Over the years, they've lifted conveyor belts, bearings, storage containers, silo, jaw dies, and anything else requiring a hoist. But meeting these challenges is more than a matter of muscle. Precision plays a huge role, especially when rigging must steer bulky equipment into super-tight spaces. But then, that's all part of being the leader in crane rental and rigging service in Southern California.
The experts at The Crane Guys will come through for you, too. No matter what your crane rental service needs may be, contact The Crane Guys for a quote when you want it done right … and right on time.